The British Institute of Interior Design (BIID) has honoured three talented designers with different awards that reflect their dedication and skill in the field of interior design. Lori Pinkerton-Rolet, Jamie Hempsall and Graham Collett all received accolades from the Institute, including the Merit Award, the CPD Award and The President's Award.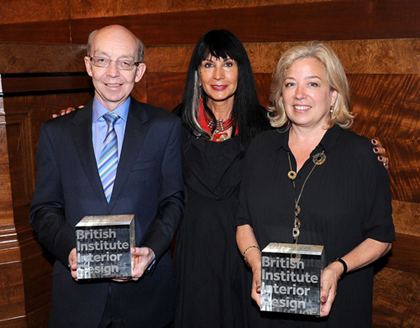 Lori Pinkerton-Rolet of Park Grove Design is the recipient of its highest annual accolade, the BIID Merit Award. Meanwhile, Jamie Hempsall of Nottinghamshire-based Jamie Hempsall Interior Design has received the BIID CPD (Continuing Professional Development) Award for his achievement in earning the most CPD points of any BIID member in the calendar year.  Alongside these a special President's Award was given to Graham Collett, BIID accountant.
"Lori Pinkerton-Rolet has made a huge contribution to the interior design profession and also to the BIID," comments BIID President, Sue Timney, who presented Lori with the Award. "She has been a major supporter of the organisation for many years and was a great President of the Institute in 2008. It is an absolute honour to present her with the BIID Merit Award."
Lori Pinkerton-Rolet received the BIID Merit Award in recognition of her outstanding services to the interior design profession. Past President of the BIID, Lori is an affiliate of the RIBA and has been Director at Park Grove Design since 1993. Lori is also a Director of Rooms-Service Ltd, which provides bespoke design for the boutique hotel market.
Accountant Graham Collett, who has been working with the BIID for twelve years, received a President's Award for his hard-work and dedication to the Institute. Diana Yakeley presented Graham with the award.
Jamie Hempsall accumulated an astonishing 176 CPD points to win the BIID CPD Award. Jamie started his Nottinghamshire Design Consultancy in 1994 and is the interior columnist for the Yorkshire Post.