The Interiors Group has won the 'Small-Medium Commercial Interiors Project of the Year' Mixology 2012 Award for the fit out of Forward. Judged by an Independent panel of judges from within the industry, this prestigious award recognises the highest standards of architecture and design. Andrew Black CEO of The Interiors Group, accepted the award.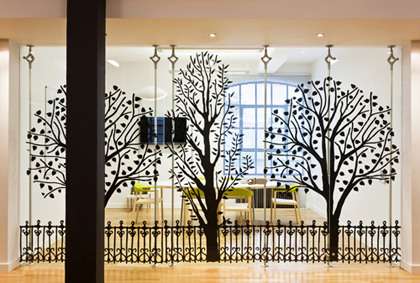 The Interiors Group had fitted out a further 9,000 sq ft of office space in central Camden for the Forward Internet Group, a cutting edge company who wanted creative and unique offices to reflect this.
The Interiors Group were commissioned to prepare a design scheme which would create an inspiring creative interior that would reflect Forwards aspirational 'work rest and play' culture. Once again The Interiors Group partnered with Jump studios for their unique design input and skills. The team has developed a scheme, which has a 'café culture' at its heart. Intelligent use of space and circulation routes is combined with stunning graphics, artwork and a 'can't be done' giant staircase within a central breakout space designed to encourage staff interaction and refectory style seating.
Andrew Black CEO of The Interiors Group, was there on the night to accept the award and was delighted that Forwards Internet Group's inspiring and creative space has also been independently recognised as one of the best places to work in the UK.