The Interiors Group have recently fitted out a modern, combined office space for EMO and The Real Adventure. The two marketing agencies are part of the communications division of Creston plc. The offices are based at One Glass Wharf at the new and modern Bristol Temple Quarter Zone.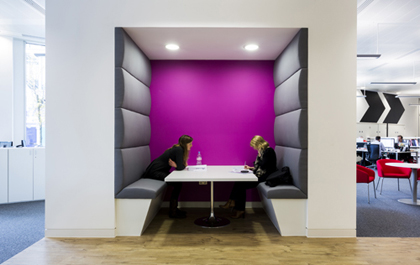 The move came about when Creston made the decision to relocate both EMO and The Real Adventure to one site. The choice to relocate made a great change from the variety of offices that the two agencies occupied – including a cellular and quirky old Victorian rectory. Both agencies now occupy the west wing at One Glass Wharf in Bristol.
The Interiors Group were tasked with the initial brief to provide an internal fit out and create a clean, contemporary office space with open spaces, so that visitors and clients can walk in and identify that they are in a buzzing company made up and achieved through their employees. Creston believed that being in the same office would create opportunities which would enhance both businesses whilst promoting their theme of, 'better together'.
Matt Hardy, Digital Director & Joint Managing Director of The Real Adventure commented: "From our initial briefing meeting, we were very confident that The Interiors Group could bring to life the creative, dynamic space reflective of our two agencies' cultures. The end result is remarkably true to the original concept – a clean, bright & stimulating environment that inspires our employees & "wow's" our clients"
The client wanted an open plan office space, meeting rooms, tea points, screening area, reception and installation of a new internal spiral staircase. Separate space was a major part of the brief and was required for both EMO and The Real Adventure. Both agencies required meeting rooms and spaces which needed to be created for directors, HR Teams, IT Teams, Meeting Rooms and Studio space. Shared space such as meeting and board rooms, telephone booths, reception space was another key requirement.
"The Yellow Room," is the main board room that can be used by both groups. This room has been fitted out with a smart LCD screen, sophisticated black mesh back meeting chairs, a white work top, board room table which provides a smart sharp contrast against the black and yellow back drop.
Staff facilities were also required such as coffee points, small store rooms shelves and personal storage space for staff including open plan soft areas and break out areas with soft seating for informal meetings. Existing furniture was from the previous offices of EMO and The Real Adventure but only where it was of high quality and fitted in with the design of the office space.