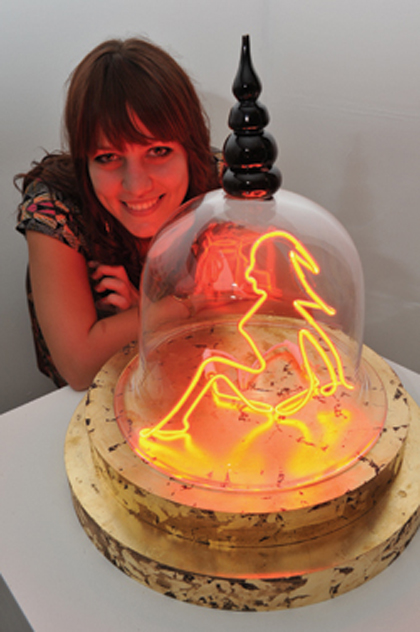 Buckinghamshire New University courses prove to be a hit with fantastic student designs displayed at art show.
Organisers of Bucks New University's end-of-year art and design show, Bucks EYeS, said they had been extremely pleased with the positive comments from visitors this year.??The show took place in June and featured pieces from a wide range of courses, including Ceramics and Glass, Fine Art, Furniture, Graphic Arts, Jewellery, Metalwork and Textiles, Silver, and Spatial Design.??Jake Kaner, professor in furniture and coordinator of the show, said: "The standard of work this year was extremely high and this was reflected in the positive feedback we have received from visitors. Everyone seemed to enjoy the show. The show was alive with innovative ideas. Our students put a tremendous amount of work in to ensuring the show was of a high standard and it provided a fantastic platform for them to display their pieces."??Student Michael Sutton, studying BA (Hons) Furniture: Design and Craft, displayed work including cantilever shelving and a cantilever lectern, as well as a bench made for the Welsh Assembly Government.??He said: "The show gives an opportunity for students to gain a different perspective on our work from fresh eyes and I have received some good comments from people visiting, who also took my card, so hopefully it may lead to further opportunities. I thoroughly enjoyed the show."
Gina Langridge, studying BA (Hons) Ceramics and Glass, displayed pieces including a 50cm-long coloured horse's head, made from blown glass. Gina, a keen horse rider, also displayed coloured bottles with stoppers shaped like horse's heads and ceramic vases with textured pictures of horses on the side.??She said: "I feel this exhibition will hopefully provide a springboard for my career. I would like to work in the glass blowing industry. It was fantastic to see how the work came together in the exhibition and how much all the pieces were obviously enjoyed by the visitors."??Fellow student Amy Taylor based her exhibition on her experiences travelling in Thailand, displaying a neon sign inside a bell jar-shaped glass, as well as making traditional vessels with neon stoppers on the top. She also hopes to enter the glass-blowing industry.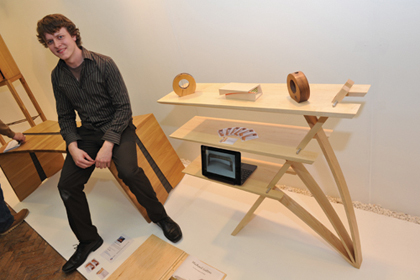 Student Jenny Collicott, studying BA (Hons) Textiles and Surface Design, displayed her final major project, entitled 'Iconic Imagery through Hockney Glasses', which was a collection of prints inspired by artist David Hockney, capturing Hockney's essence and playfulness.??The designs were made up of a combination of drawings, paintings, photographs, lino prints and various digital techniques, using a range of programmes, and printed on a range of silks. The fabrics were chosen according to which were most suited to the print and included crepe de chine, silk satin, silk jersey, satin chiffon, chiffon and crepe satin.??Jenny said: "I really enjoyed the show. It was fantastic so see everyone's work displayed so beautifully and it was a good opportunity to showcase my work. I am now in the process of starting my own business and am having my print designs made into scarves and women's-wear garments."??Pieces were also exhibited at New Designers, at the Business Design Centre, in Islington, London, in June and July, and at D&AD New Blood at The Old Truman Brewery, in Brick Lane, London, at the end of June. Students' work will also be on show at the Indigo Paris 2012 exhibition between 19-21 September.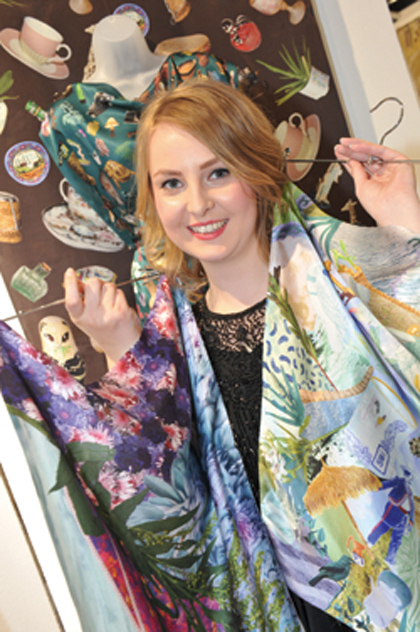 For more information telephone 0800 0565 660 or visit www.bucks.ac.uk