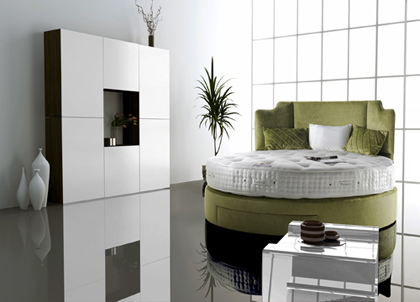 EPOC Handcrafted Beds was established in 1949 by Joseph James Cope. The business was founded with one overriding ambition, to build the finest hand-made beds possible. Today EPOC is recognized as one of the finest manufacturers of handcrafted, bespoke divan beds and mattresses. The company's portfolio includes work in stately homes, hotels, country houses and even boats with multi-million pound developments across the globe specifying EPOC designs.
The Exclusive range had its debut at the Decorex design show at Chelsea in 2010. This bed was made 8' in diameter. It featured a pocket sprung divan base complete with foot end drawer with a self-close mechanism and a shaped headboard, all upholstered in striking lime green fabric. The Exclusive range like all EPOC beds can be made in any size and shape. This range features two pocket spring units one on top of the other and exotic fillings including white cashmere, mohair, silk, wool and bamboo. It also features four rows of hand side stitching.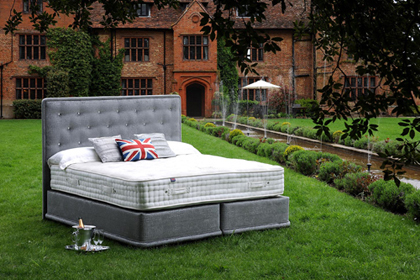 This year, to commemorate the Queen's Diamond Jubilee, EPOC created the special edition 'Diamond' divan and mattress set. 60 unique handmade sets were produced utilising the finest quality materials available today. Each set is individually made to size, hand finished in a chosen fabric and personalised with the clients name and limited edition number.
For more information on EPOC and its range of products telephone 01473 226614 or 01473 255888 (Option 4), email info@epocbeds.co.uk or visit www.epocbeds.co.uk