KI and The Furniture Makers Company's sponsorship of this years MA Furniture Design Summer School from 25th June – 1st July 2012, gave students a unique opportunity to work on a design brief co-written by key sponsor KI, Italian Furniture Company Lago and Buckinghamshire New University.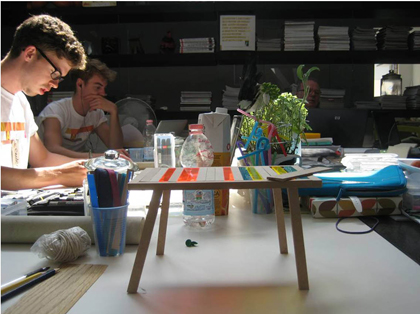 Located at the company premises of Lago in Cittadella, students got a unique taste of employment as designers for a week. As well as sponsoring the trip to Italy for the fourth year running, KI were instrumental in putting the group in contact with renowned furniture designer Giancarlo Piretti (also a designer for KI), who gave the group a private tour of his offices, studios and prototypes. The group were to realise a design brief to a very short deadline, which was a real live industry experience second to none.
The brief for the students this year was topical: How can furniture address the needs of people using portable technologies – mobile phones; iPads; iPods; Kindle type products; laptops; gaming products, chargers; headphones, and a plethora of cables?
Students were required to select a target market and consider sociological, psychological and ergonomic behaviour as key aspects of their research. Designs were judged based on; primary and secondary research evidence, design development, models, mock ups and the final design proposal which were presented at the end of the week.
Dr Lynn Jones, Department Manager for Furniture at Bucks New University and Head of the National School of Furniture (NSF), a partnership between Bucks New University and Oxford & Cherwell Valley College, commented: "KI must be congratulated for trusting in the team at the National School of Furniture, and most importantly for trusting in the students, who not only successfully completed the task, but behaved as exemplary design students and ambassadors of the subject throughout the week. Not a penny of the funding given was wasted. Investing in these designers of the future is the only way to ensure they continue to enter the profession. Thanks to KI, The Furniture Makers Company and to Lago for their generous support and sponsorship of this summer school. Support from industry is the only way things like this can continue to happen."
The summer school has become a pivotal project for the MA students, and one which adds vast industrial relevance and value to their MA experience. It also acts as a tremendous team building exercise, and engenders design understanding, human empathy and professionalism, like no other activity on the course.
The results of this workshop will be shown on September 25th in The City of London, at The Furniture Makers Hall, 12 Austin Friars, EC2N 2HE from 4pm onwards.