Artists and designers including Tracey Emin, Paul Smith and Sarah Burton collaborate to mark 10 years of the Jamie Oliver restaurant Fifteen with the decoration of iconic Fritz Hansen™ chairs.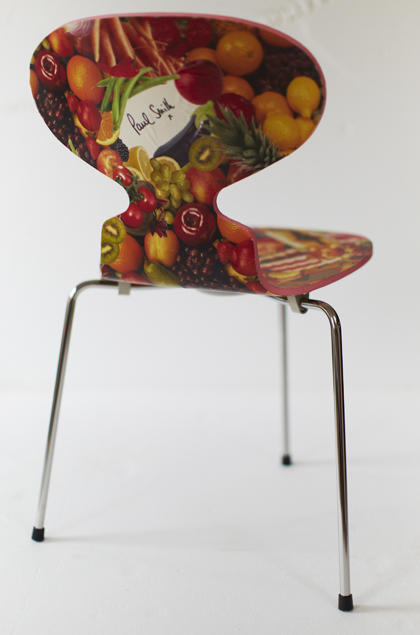 To mark the 10th anniversary of Fifteen restaurant, the social enterprise set up to mentor disenfranchised young people and train them to become chefs, Jamie Oliver's charity*, the Better Food Foundation, has launched The BIG Chair Project – an exciting collaboration with some of the top names in fashion, art and design.
Furniture brand Republic of Fritz Hansen™ – a long-standing supporter of Fifteen – has donated twenty iconic ANT™ chairs for the artists to impose a
personal, food-inspired design upon.
Each of these unique designs will be auctioned to raise money for the Better Food Foundation, which receives all profits from Fifteen to empower young people by training them for careers in the restaurant industry. The array of artists working with the ANT™ chairs, which itself celebrates a
60th anniversary this year, includes Tracey Emin, Paul Smith, Christopher Bailey, Cath Kidston and Alexander McQueen designer Sarah Burton.
Jamie Oliver is also getting involved himself, customising a classic EGG™ chair and footstool, which Fritz Hansen™ have also kindly donated. Jamie
will also design an ANT™ chair in collaboration with renowned photographer David Loftus.
There are lots of ways for the public to support the initiative. Some of the chairs will be available to win as part of a lottery. People simply need to buy a ticket at www.thebigchairproject.org to support the initiative and be in with a chance of winning a unique chair from one of the designers.
The remaining chairs will be auctioned online to give fans across the world the chance to get their hands on something truly unique.
The auction will close at an event in October, after a mix of online and live bidding as the great and good gather for this climactic fundraiser. The centrepiece of the auction will be a Tracey Emin ANT™ chair, which will be unveiled at the event as an 'on the night' exclusive item.
The list of artists and designers involved in The BIG Chair Project includes: Barnaby Purdy, Cath Kidston, Christopher Bailey – Chief Creative Officer, Burberry, David Loftus, Emma Tissier, INSA, Jamie Oliver, Jay Jay Burridge, Jonathan Yeo, Julian McDonald, Liberty, Matthew Williamson, Nunzio Citro (former Fifteen apprentice), Paul Smith, Quentin Blake, Ricardo Cinalli, Sarah Burton for Alexander McQueen, Superdry, Jo Sampson Collection for Waterford Crystal and Tracey Emin.
Commenting on his chair, Paul Smith said: "I've been a bit naughty, because on the front side of the chair it is full of cakes and all those delicious things that are bad for you! Then on the back of the chair it's full of healthy stuff – lots of fruit, vegetables and lettuce!  – it's both sides of the coin really, the bad side and the good side. It's not really the chair, it's not really the fact its Paul Smith, it's the fact that it's for a good cause so if you can support us with a generous bid that would be brilliant!"