Antonio Di Oronzo, principal of bluarch architecture + interiors + lighting, has designed The Bouklis Group, a 1,100 Square Foot office space in New York City.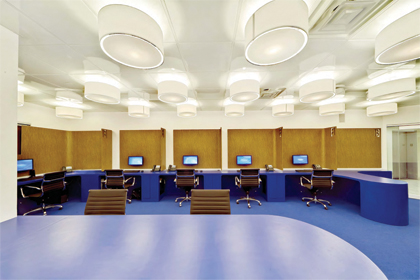 The design brief called for a streamlined, open environment that would take full advantage of the 1,100SF area leased in the Financial District section on Manhattan. The Bouklis Group office in New York City is the headquarters for a real estate brokerage firm.
The design concept behind this project stems from the basic notion of horizontal separation that characterises real estate deals and properties. The same way plans deliver a spatial sense of real estate, or floors of a building convey the layering of a property, or stacking conveys the aggregation of masses based on zoning regulations, bluarch wanted to clearly define the project with colour, materials, and lighting… horizontally.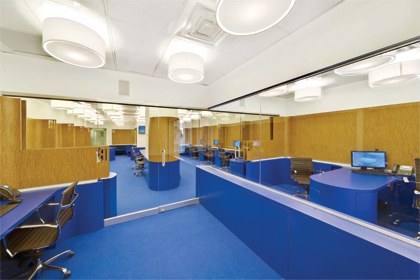 From the floor upwards, a first blue layer is created for the desks. A fluid profile defines the workstations, while the perfectly matching carpet helps identify the move. The matching objects (carpet and desks) also aimed to convey a space larger than its actual dimensions, as the continuous hue hides the bounds of the floor area. Above the blue layer is the system of wood dividers that provide for the wanted level of privacy for each salesperson. These elements also bear the computer monitors and the laser-cut logo of the company. Where further separation is needed, glass partitions offer it while preserving the continuity of the different design systems. Above all is the white layer of the ceiling and the lighting.
Bluarch is also designing a further Bouklis Group outpost in the Astoria section of Queens, New York.