Fitzrovia Now is a loose collective of design showrooms, cultural organisations and like minded eateries and hotels who have joined forces to create an inspirational design trail featuring exhibitions, installations, product launches and talks during the London Design Festival (17-23 September 2012).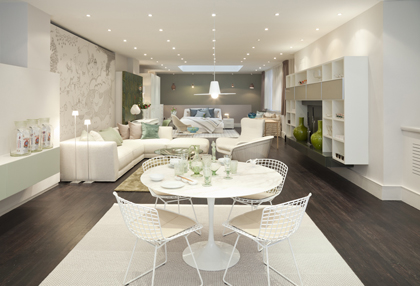 Participants include EDC London, Forza, Hastens, Ligne Roset, Material Lab, Minotti London, Republic of Fritz Hansen in partnership with Skandium, RIBA Bookshop, Riding House Cafe, Sanderson, Together Design and VOLA. Besides the showrooms' exhibitions and installations, there are additional special events during the festival that are not to be missed.
A POP-UP BOOKSHwOP, BOOKSHOP OFFER AND NEW STYLE GUIDE…
EDC LONDON: 20 Margaret St, London, W1W 8RS
A design BOOK SHwOP will be hosted at EDC London where visitors can swap design books and check out a curated collection of new titles on sale. The newly decorated living sets provide a delightful space to browse, buy and generally be inspired.
STOP PRESS: Stephen Bayley will give a talk, 'What is Ugly?' to preview his forthcoming book, published by Goodman Fiell, on Wednesday 19 September, 1pm. Entrance free
HÄSTENS BEDS: 66-68 Margaret St, London, W1W 8SR
Following a string of cult TV thrillers, the obsession with all things cool and Scandi continues. Hästens has partnered with Hemma Magazine to create the ultimate Swedish style guide, featuring the best of London's Swedish shops, restaurants, bars and events. Launching in September, complimentary copies of Swedish Style Trail will be available at Hästens' flagship store.
RIBA: 66 Portland Place, London, W1B 1AD
Offering an unrivalled range of the best design and architecture books from around the world, the Royal Institute of British Architects' Bookshop will be offering Fitzrovia Now visitors (upon showing the Fitzrovia Now map) an exclusive 10% discount and special gift. To further enjoy the RIBA's fabulous building, its restaurant is offering a 2-course lunch for £19.50, with a complimentary glass of house wine to diners quoting Fitzrovia Now.
TREATS, TREATMENTS AND TASTINGS
These aesthetically minded meeting points will provide Fitzrovia Now visitors with some welcome respite from the hectic schedule of design events to refuel, recharge and relax.
RIDING HOUSE CAFE: 43-51 Great Titchfield St London, W1W 7PQ
This modern all-day brasserie comprises a winning combination of eating, drinking and meeting spaces – and will be providing Fitzrovia Now visitors an exclusive £10 cocktail and cake offer (upon showing the Fitzrovia Now map).
SANDERSON: 50 Berners St London, W1T 3NG
Housed in a landmark 1960s building, Fitzrovia's 'urban spa' combines modern and classic design elements to create a one-of-a-kind refuge. The hotel is offering Fitzrovia Now visitors (upon showing the Fitzrovia Now map) an opportunity to dine at its new Berners Street Terrace, sampling three dishes for £25, plus an exclusive "express treatments menu" in the Philippe Starck designed Double Storey White Oasis.
TOGETHER DESIGN: 118-120 Great Titchfield St, London, W1W 6SS
Together Design is Fitzrovia Now's design partner and is committed to reinforcing this characterful corner of London that is making its mark on London's design map. The design studio has recently completed the new branding for the quirky artisan condiment Bacon Jam – created by Walthamstow bistro, East17 – and the distinctive labels and messages have since secured shelf space at Tesco. Together will be showing and sharing the product at a bbq reception on 19 September 2012.
TREND ALERT!
Material Lab 10 Great Titchfield St, London, W1W 8BB
Trend retailer Nothing but Navy will create a special window display at Material Lab – to showcase its navy-hued products spanning stationery, interiors accessories and prints.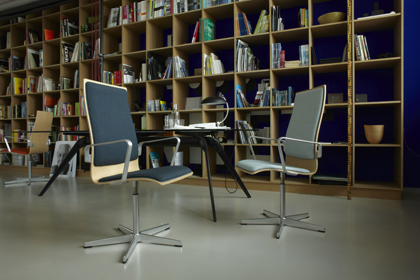 WORKSHOPS, COMPETITIONS, FOUNDATIONS & CONSULTATIONS
REPUBLIC OF FRITZ HANSEN IN PARTNERSHIP WITH SKANDIUM: 13 Margaret St, London, W1W 8RN
Fritz Hansen is collaborating with Danish toy brand LEGO to host a series of not-to-be-missed workshops and competitions. The Scandinavian design emporium has also created a collection of Ant chairs customised by artists to help raise funds for chef Jamie Oliver's Fifteen Foundation. The chairs will be displayed at the store throughout September and sold by auction in October. Go to The BIG Chair project news story at www.interiordesignermagazine.co.uk
MINOTTI LONDON: 77 Margaret St, London, W1W 8SY
This renowned furniture design company will be offering complimentary design consultations. Bookable in advance, this is a unique opportunity to explore any interiors concerns and potential solutions with the guidance of an experienced member of Minotti's design team.
SATELLITE EVENT
Fitzrovia Now is joining forces with DESIGNJUNCTION which takes place at the nearby Sorting Office, 21-31 New Oxford Street, London, WC1A 1BA. Designjunction moves away from the traditional trade show environment, showcasing leading international brands, curated spaces, the Tramshed show, live flash factories, eateries, design shops and more…
Bike tours will be organised between both events – starting at designjunction and exploring the Fitzrovia Now district, taking in the
participating showrooms.
www.fitzrovianow.com
Twitter: @fitzrovianow #fitzrovianow