Pearl Motor Yachts, one of the UK's leading luxury yacht builders is to launch the new Pearl 75 at this year's Southampton Boat Show, 14-23rd September 2012, alongside world-renowned interior designer, Kelly Hoppen MBE.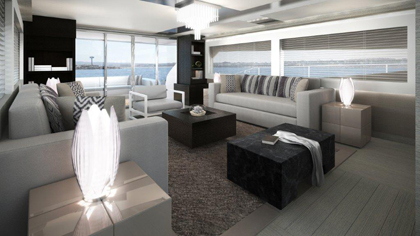 In a special collaboration with award-winning designers Kelly Hoppen MBE and renowned yacht designer, Bill Dixon, the Pearl 75 brings new levels of style, sophistication and features to this sector of the motor yacht market. Laden with a host of unique features, the vessel is the largest of the Pearl ?eet.
Created by the highly acclaimed studios of Dixon Yacht Design, it offers owners outstanding levels of comfort with four luxuriously appointed staterooms, an unusually spacious 'lounge style' saloon and a unique open-plan galley and dining area which are ?ooded with light from the conservatory style glass roof.
Externally a Jet Ski garage and a hydraulic bathing platform mean owners can carry a jet ski and tender without the need to take up valuable ?ybridge space. The Pearl 75 also boasts the ZF series 4000 pod-drive propulsion system incorporating joystick control technology.  This offers the owner joystick manoeuvrability and the option of operating the yacht without crew if preferred.
Kelly's well-known design ethos of balance, sophisticated use of texture and trademark neutral colour scheme is featured throughout the fresh and
contemporary interior of the Pearl 75.
Commenting ahead of the launch Kelly enthused "My aim with this exciting project was to instil a feeling of sanctuary in the Pearl 75, so it was perfect to use my East meets West philosophy. I thoroughly enjoyed working with Pearl 75 team and I'm thrilled with the results. I'm really looking forward to unveiling the Pearl 75 at the Southampton Boat Show."