The Interiors Group have successfully completed a fit out for Abdul Latif Jameel offices, in the Jumeirah Business Centre in Jumeirah Lake Towers, Dubai.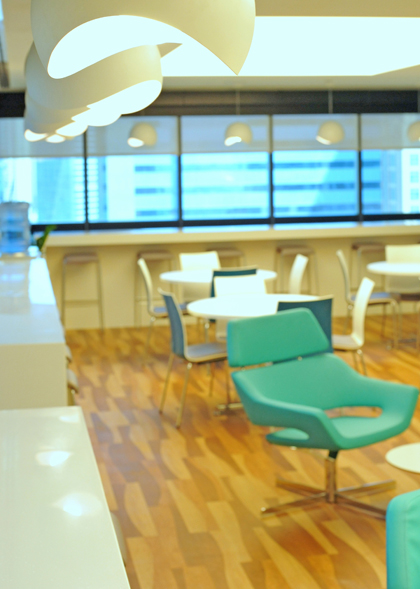 The client wanted to relocate its headquarters and approximately 131 staff members from Beirut to Dubai. The timescale for the project was very tight. The previous offices were largely open plan but the client required cellular offices, particularly to accommodate its executives for both the 17th and 18th floors. Working with BDP, The Interiors Group have fitted out a modern office space with clean lines, which now sets the standard globally for a uniform look throughout all future ALJ offices.
The reception area has been fitted out with a walnut veneer desk with back lit glass to add colour and compliment the logo. There is also a client waiting area to the far side of the reception desk, where visitors can wait in comfort on smart leather sofas and armchairs.
The colour schemes were driven largely by the ALJ logo and a complimentary mix of materials. Light timber has been used mainly for this fit out, however the maple doors contrasts and compliments the walnut furniture for executive and the white system furniture.
Natural lighting has been maximized throughout the office where possible, whilst back lit stretch ceilings were used to create the illusion of height and lift key spaces.
The meeting room has been fitted out by The Interiors Group, a bespoke AV maple wall, meeting table and acoustic wall panels. Executives on the 18th floor can use the large terrace as a break out area during the more clement months of the year.
Rif Omar  Abouricheh, Vice President of ALJ commented: "We have really enjoyed our experience with The Interiors Group and they have delivered what we believe is an award winning office space. They understood our needs from day one and have ensured that the quality, budget and delivery time was exactly as we wanted."
The Interiors Group have 25 years experience delivering stunning commercial environments. They are widely proven and trusted by both clients and professional project managers to deliver business environments on time and on budget.
The Interiors Group's Middle East operations: www.interiorsgroup.ae