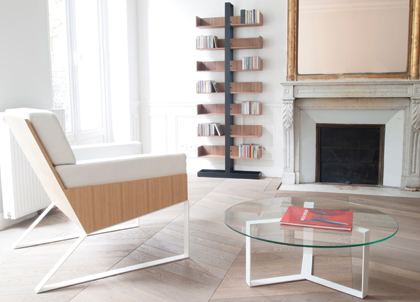 The Severin Line is an exclusive collection of modernist furniture designed and made in France by Alex De Rouvray Design and was on display at 100% Design this year. A graduate of Stanford University and Ecole Nationale Supérieure d'Arts et Métiers in Paris, Alex de Rouvray has a hybrid design and engineering background. After having worked in several high-end design firms and taught at NYU, Alex launched his own line of furniture. All items in the Severin Line are made to order in France's Loire Valley by local artisans, ensuring that each piece remain unique. The Severin Line features lounge chairs, bookshelves, coffee tables and more, all in the same distinctive style.
The design philosophy behind the Severin Line is minimalist, functionalist and sober, inspired by the modernist approach developed in the 1930s by such designers as Le Corbusier, Charlotte Perriand and Jean Prouvé, or in the 1950s by Charles and Ray Eames. Following Dieter Rams' principle that "Good design is as little design as possible", each item in the Severin Line seeks to eliminate any superficial ornament, reducing the amount of material to the bare minimum: this economy of materials creates furniture that is light and transparent, reducing the visual clutter in one's living space. Moreover, the minimalist form factor allows the rich and contrasting materials used in the Severin Line to stand out and fully express their personality: smooth glass surfaces, textured oak or walnut veneers, satin finish powder coated steel frames, padded and selvedged premium leather cushions.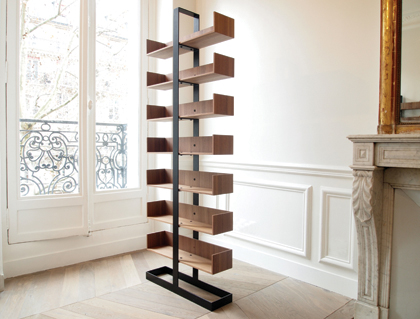 Products in the Severin Line all share the same distinctive traits: same materials, same proportions, same minimalist design, same dramatic cantilevered structure. Each detail is carefully thought out, each screw specially selected to meet the harmony of the whole piece.
For more information telephone +33 6 31 56 76 41, email alex@alexderouvray.com or visit www.alexderouvray.com