Alain Gilles, the creator of some of the most interesting products recently realised by Bonaldo, has been voted Designer of the Year 2012.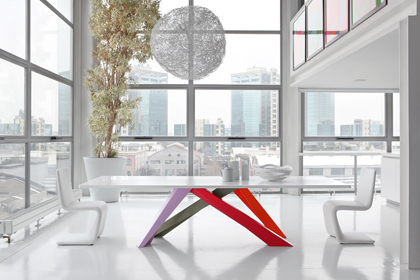 The initiative is led by the non profit-making association Interieur together with Belgian news magazines Knack Weekend and Le Vif Weekend and with the support of the Design Museum Gent, the cultural association Grand Hornu Images Gallery and the Design September exhibition.

Alain Gilles was nominated for the award on reflection of his industrial products, which demonstrate a strong poetic side. Born in Brussels in 1970, Gilles entered the design world at a relatively late stage, after a career in other sectors: he studied political science and marketing and then started working in the world of finance, but then decided on a change of track and follow his dream. After working with Xavier Lust and Quinze & Milan, he opened his own studio in 2007. His partnership with Bonaldo began in 2008, leading to the production of the Tectonic coffee tables (2008) and, in 2009, Big Table, a project that gained him notoriety in the world of top design.
Dieter Van Den Storm, artistic director of Interieur and member of the jury commenetd on Alain's work. "The first time I saw his Big Table, his design for Italian manufacturer Bonaldo, I was immediately convinced this designer would make waves. The table is more than just a large top on eye-catching legs. It is also a colourful sculpture which displays a strong presence in any space."

In addition to Big Table and Tectonic, Alain Gilles also designed the Collage coffee tables (2011) and the Welded table (2012) for Bonaldo. Alain Gilles' objects will be exhibited in a show dedicated to the designer on the occasion of the Interieur trade fair, scheduled to take place from 20th to 28th October 2012 in Kortrijk.