Architects, contractors and interior designers have until Friday 21 September to enter the inaugural Surface Design Awards.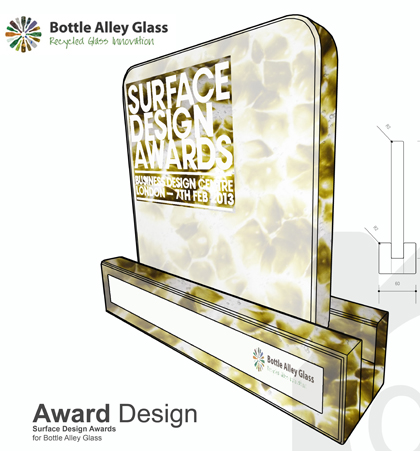 Launched to mark the 10th anniversary of Surface Design Show, the Awards will recognise examples of progressive design and the use of innovative surfaces in projects both in the UK and internationally.

Christopher Newton, Director of Surface Design Show commented, "We wanted to celebrate the 10th anniversary of the show by giving something back to the industry. These new awards will mirror the goals of the show by shining a spotlight on the wealth of creativity and innovation available. Commissioning Bottle Alley Glass to design and create these exclusive Awards from recycled glass bottles reflects the inventiveness of the industry."

The ten Awards span six categories and the shortlist and overall winners will be chosen by a panel of architects and designers co-chaired by Felix Mara, Editor of the AJ Specification and Vanessa Brady, President of the Society of British Interior Design.

The Awards will be presented at Business Design Centre, London on Thursday 7 February 2013, the last day of Surface Design Show.

If you are an architect, contractor, interior designer or client, who has completed a project using exterior or interior surface materials in a new, innovative or creative way, enter for free at www.surfacedesignawards.com

Entry deadline is Friday 21 September 2012 at 5.00pm (GMT).