Lacoste recently enlisted award winning designers designLSM to implement the brand new Knightsbridge flagship concept store.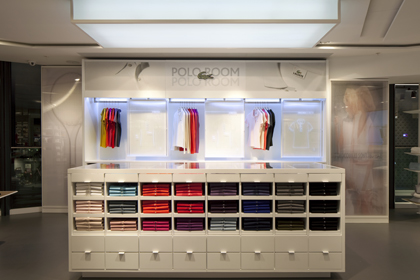 Design work commenced last September when Steven Wragg, Senior Designer received the brief to create a classic Lacoste retail environment with a quintessentially English twist.
The handover took place in June where a series of rooms have been created within the 7470 sq ft space using different tones and features within each area. Specific clothing collections and accessories are displayed in each room, providing the customer with a complete visual journey of the Lacoste clothing and accessory range. The 'Polo rooms' on the ground and first floors consist of pull out shelving along a section of the perimeter walls. The shirts hang in open-fronted display units which are separated by clear perspex boxes on which style guides are inscribed.
The site, previously a French Connection outlet features a new three-storey high staircase in the centre of the building connecting all three floors, with a 10-metre high, moving Triola wall displaying the current Lacoste advertising imagery. There is a dedicated L!ve floor in the basement and children's department on the first floor. One of the challenges for designLSM was the unusual shape and angles created by the layout of the existing building which have had to be taken into consideration when designing the scheme. The lighting on each floor is controlled by an electrical dimming plate which is automated and daylight linked.
Huge LCD screens will show promotional material throughout the store. Steve Wragg commented: "We increased the structural voids in the ground and first floors to accommodate the bespoke staircase to visually link all the floors. One of my favourite architectural design elements is the 3-storey high, glass lift shaft complete with glass car, corner light feature and graphics running along both sides of the shaft."