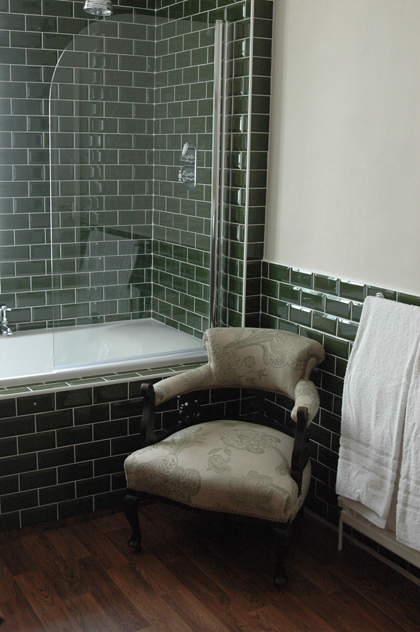 Polyflor, one of the UK's leading manufacturers of commercial and residential vinyl flooring has been showcased in the latest series of Channel 5's, 'The Hotel Inspector'. Hosted by Alex Polizzi, Polyflor provided Forest FX 3110 Stained Maple for the refurbished bridal suite bathroom featured in the show at the haunted White Hart Hotel in St. Albans.
?The classic design and warming chestnut tones of Forest fx Stained Maple marries beautifully with the traditional yet contemporary styling of the en-suite, with its olive green brick-set tiles and dark wood furnishings. The durable and practical construction of Forest fx makes it an ideal solution when looking for bathroom flooring, and its high-quality PUR coating provides a polish-free surface for the lifetime of the product.
Forest fx is 100 per cent recyclable and achieves BRE A+ certification for major use areas based on a life cycle analysis approach over a building life of 60 years. All these qualities make the collection environmentally preferable whilst meeting decorative, practical, budgetary and maintenance objectives.
Catch it again on Demand5
http://www.channel5.com/shows/the-hotel-inspector/episodes/episode-7-297
For more information visit www.polyflor.com