Established in Australia in 2006 and now available in the UK, signarture create artworks inspired by the trends in colour and design to complement contemporary interiors.
Signarture offer design professionals and the design savvy alike affordable, bespoke artworks that bridge the gap between mass produced prints and artists originals. Each piece is Made in Britain to order in the colour, size and medium required to suit any space or project, inside or out.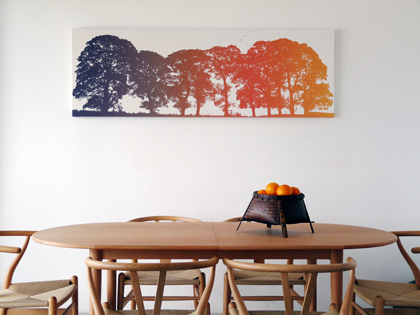 The unique perspex art allows light to interact with the artwork, enhancing their beauty through shadow casting, whilst the covetable canvas prints add warmth and texture.
Signarture's latest collection, Treescape II, released for London Design Week 2012, is now on display in Signarture's showcase located on the 3rd floor, South Dome of Chelsea Harbour Design Centre.
The collection employs on-trend dip dye and ombré effects to incorporate a vibrant colour palette whilst remaining grounded in natural inspiration.
"The trend for timber and natural, humble materials has only gained in momentum since we launched our original treescapes" says Sarah Leslie, Owner & Creative Director. "Wood grain effects and tree motifs are still strongly on-trend, reflecting our desire for all things organic and to create spaces that connect our urbanised lives to the natural environment. And now, following fashion's lead, we're seeing bold new colour accents move into interior design."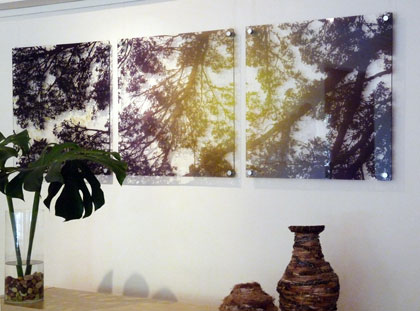 Popular designs Burrawang, Braidwood and Blackheath have been completely updated with new colour treatments, whilst three new designs Aberfeldy, Balmoral and Gleneagles reflect the designer's heritage and the brand's recent arrival in the UK.
"My family came from Aberfeldy, in Perthshire" explains Leslie. "The region is actually marketed as 'big tree country' so revisiting my roots after last year's UK launch provided great inspiration for the new designs."
Treescape II adds to the varied swag of on-trend collections released by Signarture, each designed to address a particular trend in contemporary interior design.
For each artwork, you can choose from several colourways and a comprehensive range of sizes, or request your own bespoke colour and dimensions.

To put a face to the brand, meet owner and Creative Director, Sarah Leslie, in this video interview http://www.signarture.co.uk/#/page/meet-us-on-tv/ conducted at Grand Designs Live 2011.
Whether you need artworks for yourself, your clients, a residential, hotel or commercial development, one-off or one hundred, discuss your particular project requirements by phoning 020 7692 0600.
For more inspiration, to request a catalogue and colour specification guide, and to explore all of Signarture's on-trend collections visit their online gallery www.signarture.co.uk.