Graven Images has been named 32nd Annual Gold Key Awards Finalist for Radisson Blu Aqua Hotel, Chicago, representing the only British design studio to make it into the shortlist.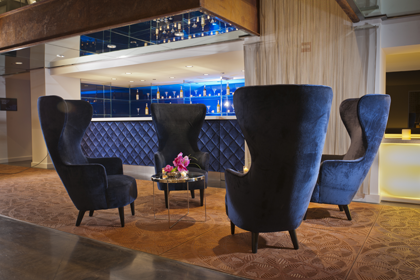 Featured along with the Carlson Rezidor Hotel Group in the Best Hotel Design – Midscale-Upscale category, Graven Images was selected among 200 submissions from around the world.

Opened in November 2011, the Radisson Blu Aqua Hotel unveiled the first look at the design vision for the upper-upscale Radisson Blu brand in the United States. The flagship hotel is located on the first 18 floors of the 81-storey Aqua Tower, named "Skyscraper of the Year" by Emporis.

Graven Images' Creative Director Jim Hamilton carefully handpicked features and materials reflective of the city of Chicago to implement a design relevant to the surroundings and everyday life. As an example, steel work features heavily throughout the interiors, paying homage to the city's iconic skyscrapers. Similarly, the lobby's brick walls studded with backlit glass blocks resemble the cityscape seen from a distance.

Representing the Radisson Blu brand and Chicago's unique architectural style, a thought-provoking, contemporary design crafted by Graven Images prevails throughout. The 20-ton steel staircase leading to the mosaic-tiled Filini Restaurant, a dramatic Egyptian brass medallion screen wall and a 50-foot-long gas fireplace are some of the most distinctive elements.

Gold Key honours are presented annually to design firms responsible for the most innovative hospitality properties completed or renovated within the past 18 months. Nearly 200 projects in 23 countries were considered, representing a 25% increase in entries over 2011.

Announced by The International Hotel, Motel + Restaurant Show® (IHMRS), finalists were selected based on aesthetic appeal, practicality and functionality of design. The winners will be revealed at a breakfast ceremony due to be held at the Mandarin Oriental New York on 12 November 2012. ??
www.graven.co.uk