Hirsch Bedner Associates has revealed its most exciting new project, Four Seasons Guangzhou, adding new heights to China's expanding hospitality industry.
The hotel is a landmark property occupying the top third of the Guangzhou International Financial Center, a 103-story mixed-use skyscraper located in China's export capital.
Rising above the Pearl River, the 104-room property occupies the top 30 floors of the Guangzhou architectural landmark and features a dramatic 30-floor-high atrium, meant to push the boundaries of design and challenge perceptions of the interior.
The hotel's elegant yet ultra-modern interior was meticulously planned to ensure exceptional guest experiences: dedicated express elevators shoot to the 70th floor sky lobby where a dramatic ten foot red steel sculpture by Australian artist Matthew Harding appears to float on a sea of watery glass, reflecting the ceiling 30 floors above.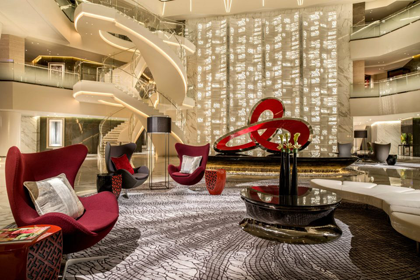 Artwork, curated by HBA in-house art consultancy Canvas, extends to edgy Southern Chinese pieces from local artists and reflects the theme of four seasons from spring on the ground floor to winter at the top floors – moving from grounded to white and ethereal feelings, enhancing the height.
Unique to this property, HBA was challenged to match the interiors with the complex structural columns featured in all public spaces as well as guest rooms and suites. Each floor features a unique floor plan as a result, with the building narrowing as it rises and columns intersecting at different points.
Furniture is predominantly modern Italian with contemporary Chinese art playing off elements of nature and culture – for a global feel.