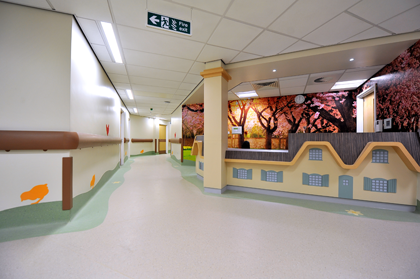 Polyflor has supplied around 10,000m2 of its flooring to the new Women and Children's Unit at The Royal Oldham Hospital. The Pearlazzo PUR range in a variety of different colours has been installed and several designs have been wajerjet cut into the floor for added effect.
Alison Gilmore, Market Manager at Polyflor commented, "Pearlazzo PUR can be welded at the seams and to coved skirtings to create continuous, impermeable surfaces that offer no sanctuary to dirt and bacteria. The PUR treatment also means that the flooring is very easy and simple to clean".
David Shepherd, Facilities Manager at the Hospital added, "It is vital that the hospital is a pleasant and welcoming environment for our staff, patients and visitors and we feel strongly that a healthy environment promotes a greater sense of wellbeing and can help with recovery".
Within the new BRE Global rating scheme Pearlazzo PUR achieves a BRE A+ rating in major use areas such as healthcare and education and Pearlazzo PUR is 100% recyclable through the Recofloor vinyl take-back service and contains 25% recycled material.
Pearlazzo PUR meets the performance requirements of EN 649/EN ISO 10581 and is fully tested to fire safety standard EN 13501-1. Pearlazzo PUR has also passed the most stringent VOC emissions tests, including Indoor Air Comfort GOLD from Eurofins, demonstrating no negative contribution to indoor air quality.
For more information telephone 0161 767 2551 or visit www.polyflor.com