JOI-Design has recently completed a redesign of the guestrooms of the Sheraton Pelikan in Hanover, Germany, with a style that underlines the unique heritage of its location in the former production factory of Pelikan, a brand known to this day for its ink and artists' paint.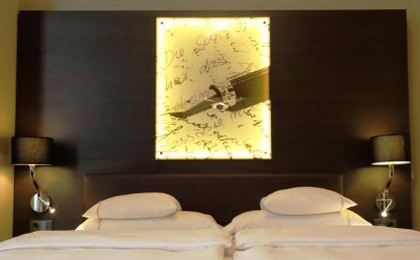 The elegant red brick building built in 1906 was revolutionary in its time because of the reinforced concrete building structure which provided large bright spaces and ideal working conditions for employees. White pelican motifs running below the gable and plastered window surrounds provide a striking contrast to the simple red stone façade. The building was converted into a hotel by Sheraton in 1993 and has 147 guestrooms; those which are located in the former production areas have up to 4.25m high ceilings with large windows.
In referencing the heritage of this fine German brand, JOI-Design has achieved a harmonious balance that blends industrial authenticity with contemporary style and comfort. The concept for the guestrooms draws upon the art of writing through individual elements that refer to the building's previous life. The carpet design is suggestive of stylised ink splashes floating on a background of hand-sketched lines and the curtains have a subtle pattern of cascading ink spots. Above the desk, three glass pendant lights from a Tom Dixon collection are reminiscent of the shape of a glass ink bottle, while the bedroom side tables have softly serrated edges inspired by the bottle's lid. Each room has its own unique piece of art, an illuminated glass panel set into the headboard and back painted with a handwritten quote.
Famous quips have been penned in the script of team members from both the hotel and JOI-Design, providing a delightful commentary on the individuality of the handwritten script in an age of impersonal emails and text messages.
Overall the design language brings an individual touch to the rooms, imparting guests with the feeling of being in their own loft apartment. High vaulted ceilings add to the loft-like character of the rooms and
large windows allow natural sunlight to flood the space, creating an airy feel. The colour palette of natural tones is themed around the traditional writing set of parchment paper and inks. Contrasting accents, such as the saffron yellow leather desk chair with stitching detail, add a vibrant splash to the deep espresso base colours of the guestroom furniture.
In keeping with the building's architecture, the interior detailing is unfussy and minimal. Careful space planning was required to create a luxury hotel room within a relatively small space, down to the angle of the bed and exact positioning of the TV.
Hand-drawn lines also feature in the guestroom corridor carpet design, running out asymmetrically from one side of the corridor as in a left or right justified paragraph. The pattern of lines is punctuated with
large stylized elliptical "ink blobs" demarking the guestroom entrances.