Hotel Lone scooped the award for Newbuild Hotel at the European Hotel Design Awards, held on 20 November 2012. Opened in summer 2011, Croatia's first member of Design Hotels™ was described by the judging panel as "a stunning piece of architecture on the Istrian coastline".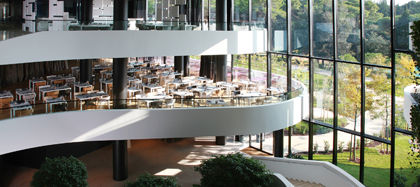 With just under 200 entries for this year's awards, to be named a finalist is already an accomplishment. Hotel Lone was distinguished among four other contenders, as commented by Simon Ford, Chair of the judges: "A stunning piece of architecture on the Istrian coastline in Croatia that not only makes the most of its location but enhances it also. The judges felt this was a bold statement that worked well with the landscape, created many interesting and thoughtful spaces and played with the numerous interactions of plane, light and volume notably in the public areas. For a relatively young team of designers and architects inexperienced in hospitality design this was a stand-out winner for the judging panel."

A result of an ambitious and unique project led by young Croatian talents, Hotel Lone was designed as a contemporary expression of the traditional Croatian resorts developed in the 70s.

Behind the architectural design is the 3LHD team from the Croatian Faculty of Architecture, under the guidance of architect Silvje Novak.

Within walking distance from the Golden Cape Forest Park, the sea, and the delightful Rovinj old town, the spectacular building houses 248 spacious guest rooms – some with their own infinity pool, a variety of restaurants and an impressive spa featuring eight multi-funtional treatment rooms.