The Interiors Group have recently fitted out the Chinese Visa Centre office in the City of London. Working in conjunction with Edge Design, The Interiors Group were provided with the initial brief to present the visa centre as a 'Gateway to China' both in the literal sense of entry following visa approval and in an experiential sense of Chinese culture.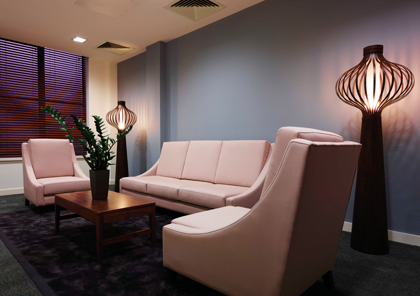 The design responded to the original brief with a clean and contemporary palette of materials and finishes that are reminiscent of the craft and tradition associated with the heritage of China.
The brief required office space and thirty five counters for visa applications. These individual cubicles are separated by dark wooden panels and sit adjacent to the main waiting area. The back of house office space consists of an open desking area as well as formal and informal meeting rooms. The colour scheme remains consistent throughout, with a combination of grey and white ceramic floor tiles and carpet, white walls and dark wooden accents such as panels and doors. Red screens, chairs, and carpets add a splash of colour and complement the dark wood to create a finish evocative of authentic Chinese culture.
Lighting was also a key feature in this installation. In the ceiling of the main waiting area there is a bespoke feature lighting that illuminates the Chinese Visa Office Logo. The Interiors Group have also installed a large vertical AHU within a internal light well which can somewhat be likened to the equivalent of a ship in a bottle.
A bespoke, commissioned installation, inspired by classical Chinese blue and white porcelain ware is featured throughout the visa centre. In an interesting twist, the illustration depicts both Chinese and British scenes, thereby creating a link between the locality of the visa centre and the ultimate destination of those who visit it.