Scott Brownrigg and Willmott Dixon Interiors' room Shaded White has won Sleep Hotel 2012 Best Room Design at this year's Sleep Event.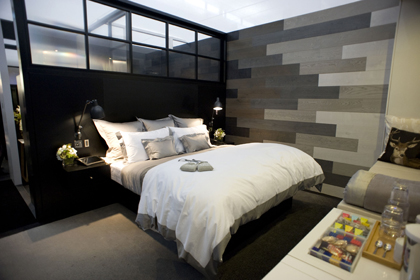 With a brief to design a 23 sq m, five star, city centre hotel room which pushes the boundaries of imagination, innovation and creative flair, the stunning and luxuriously designed Shaded White room beat off strong competition from Bisset Adams and 8build, Shaun Clarkson ID, Yasmine Mahmoudieh, Nous Design and Overbury.

Judges, Javier Hortal, Project Leader EMEA at the Mandarin Oriental Hotel Group, Khirstie Gunn-Myles, Head of Design and Engineering at IHG and Conrad Smith, Managing Director at ReardonSmith Architects commented that the "intelligent layout", "use of space" and the "timeless design" of Shaded White, together with its "functionality and customer focus" helped to secure its win.

Una Barac, Director at Scott Brownrigg said: "We are absolutely delighted to be the Winner of the Sleep Hotel 2012. It was a challenging brief, yet we were determined to ensure our design was well thought out and would provide guests with a special and memorable experience. Carefully considered planning of the room enhances the wonderful view, whilst the refined tonal and textural palette creates a timeless design. Incorporation of state–of-the-art technology provides modern edge for the savvy travellers. However, the room is not solely dependent on the technology and traditional interface is also provided to appeal to all users.
This tremendous result has been achieved through the collaboration with Willmott Dixon Interiors and the support of all our suppliers. Through this joint effort a stunning room has been created, which we can all be proud of."
Graham Shaw, Director of Operations, Willmott Dixon Interiors said: "Willmott Dixon Interiors are proud to have delivered this fantastic example of a 5 star luxury hotel room built under very tight constraints. Working closely with Scott Brownrigg's professional team from the outset ensured we carefully considered every detail required to deliver the design intent and create a fully functional hotel room complete with the integrated technology. Together with our Supply chain partners we have delivered a stunning room with high quality finishes and exceptional quality workmanship throughout. This is definitely a showcase piece to be proud of!"

The aim of Shaded White was to create a timeless room where the design would transcend trends and offer effortless elegance for years to come. The team therefore focused on a minimalist design approach with a restrained colour palette.

A mountainous city view provided the focal point and inspiration for the room's arrangement, with a luxurious raised bed orientated to ensure guests experience the view uninterrupted. The location of the desk and the window seat provide further opportunity for guests to relax and appreciate the scenery.

Fitting a luxury room into 23 sq m was a challenging task, so the focus was on intelligent forms of storage, which would de-clutter the room. This was achieved through the elevation of both the bed and the window seat to provide storage underneath.

The mountain inspiration continues through to the bathroom and shower, which has clean, simple lines, surround-sound system and natural daylight that streams through the raised glass panels. The bathroom and wardrobe have been cleverly planned and designed to offer guests not only the necessities, but create the quality and feel of a five star bathroom within very limited space.

Shaded White offers state–of-the-art technology in an unusual and inclusive manner. Inbuilt and freestanding iPads allow the technology-savvy guest to communicate with reception, control lighting levels, blinds and the entertainment system from any part of the room. In addition a simple, user-friendly control pad offers the same service in a more conventional and traditional manner. This system is beneficial for the operations and management team by supporting sustainability and limiting electricity use to times when the room is occupied.
www.scottbrownrigg.com
www.willmottdixongroup.co.uk