John Evans Interior Architecture and Design has reached the Retail Interior final of the International Hotel & Property Awards with its innovative new concept store design for furniture retailer, Bensons for Beds.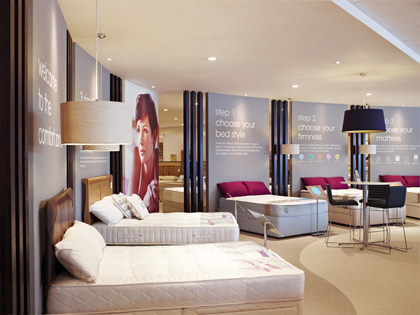 In this transformation of the popular retail store John Evans Interior Architecture and Design has created a 'lifestyle' venue where customers can reflect on the high quality products for sale and feel at ease purchasing a bed.
Fundamental to the design was the "comfort zone" concept which provides a comfortable environment where beds can be tested and evaluated for comfort level. In addition, a 'Focal' feature for customers when entering the store presents an instant impression of quality. The 'Focal Wall' is used to display a bed from the Bensons product range in more of a bedroom setting with a wall-covering back drop and voile drapes to either side. This feature emphasises product quality within the store but also creates a visual block on entering so that a customer has to move further into the store to browse.
The International Hotel & Property Awards, hosted by UK design magazine design et al, take a unique approach by presenting the shortlisted projects online, and opening voting to industry professionals and design et al readers, clients and customers. For further information on the awards please visit http://thedesignawards.co.uk/.