FENDI Casa – Luxury Living unveiled its iconic Andy Warhol exhibit at the 11th edition of Art Basel Miami Beach on Thursday, December 6th at the Luxury Living – FENDI Casa Showroom.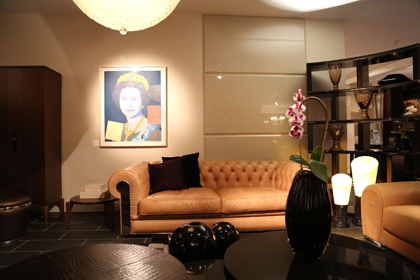 The collection will be on display at Luxury Living – FENDI Casa for two weeks following the event and will then move to Adamar Fine Arts Gallery where it will be on display until January 6, 2013. All pieces will be available for purchase during this time.
The exhibit, a collaboration with Adamar Fine Arts Gallery, showcases an array of Andy Warhol's greatest masterpieces, curated to depict the diverse and fascinating notable women throughout history and mythology.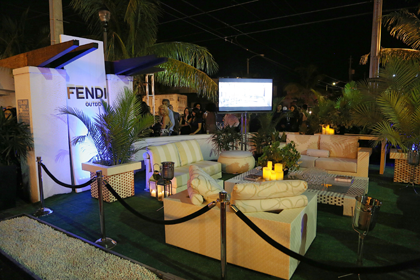 Guests mingled and enjoyed cocktails provided by Avion Tequila and Atlantico Rum while browsing a selection of Warhol's most recognized pieces including Ingrid Bergman with Hat, Karen Kain, Jane Fonda, Marilyn, Jackie I and Blackglamma (Judy Garland), along with two of his most prominent works Venus and Annunciation.
Both Venus and Annunciation are inspired by historic Italian works interpreted and recreated by Warhol.
Venus, known as one of Warhol's most iconic and glamorous paintings, is part of his "Details of Renaissance" series, which was created in 1982 when Warhol painted his first pieces inspired by historical works of art.
The painting is based on details of Sandro Botticelli's Birth of Venus, which is in the Uffizi Palace in Florence, Italy. Annunciation is Warhol's analysis of Leonardo da Vinci's Annunciation which depicts the story of the
appearance of the Angel Gabriel to the Virgin Mary and his message to her. Warhol's passion for recreating masterpieces from the Italian Renaissance resonates well with the Italian identity of the FENDI Casa brand.
Club House Italia's – licensee for FENDI Casa – CEO Mr. Alberto Vignatelli along with Mr. Michael Goldstein, President of Acqualina, unveiled a short-film that highlighted the unique collaboration between The Mansions at Acqualina and FENDI Casa – Luxury Living. Additionally, a Midnight Sapphire Rolls-Royce Ghost was parked on-site for all to admire.
Together along with Mrs. Raffaella Vignatelli and Elle Décor, the evening embodied the essence of contemporary art and design, delivering a one-of-a-kind experience to all in attendance.