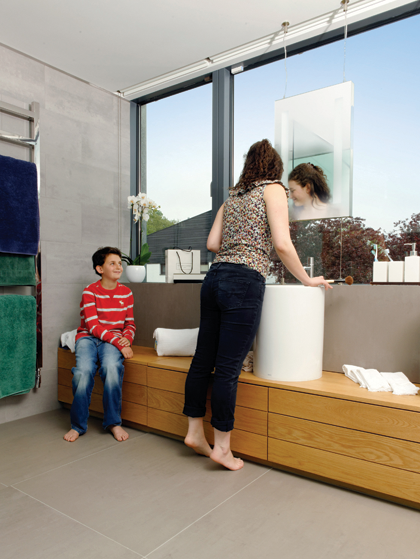 Cosy bathrooms
When space is at a premium, or the room has an unusual shape, radiators can be both unsightly and cumbersome. Small bath or shower rooms often incur the same problems, sometimes having poor ventilation to add to the awkward layouts. This is where underfloor heating comes in to its own and where steam free mirrors prove to be a bonus. Cosyfloor™ and Ecofloor offer gentle comfort heating and can be used in almost any shape of room. The cable winds around basins, or cabinets, so that virtually the whole floor area is covered. To ensure that these smaller rooms have steam free mirrors, fitting a demista™ heated mirror pad will guarantee a clear view no matter how much steam is created. These pads come in a wide choice of sizes and combinations of pads can be fitted should the mirror be exceptionally large or unusually shaped.
Blakes Hotel's bathroom redesign
Exceptional luxury of design and comfort – the signature of interior designer Anouska Hempel extends through into newly refurbished bathrooms at Blakes Hotel in South Kensington, London. demista low energy heated mirror pads were fitted invisibly behind the mirrors and R & D Marketing's Cosyfloor underfloor heating provides gentle warmth for bare feet in the bathrooms that each match their bedroom or sumptuous suite.
For more information telephone 01932 866600 or visit www.demista.co.uk