London and Singapore based Interior Architects Shed were commissioned by Chalhoub Group, the leading partner for luxury in the Middle East since 1955, to create an entire district for the world's leading luxury shoe brands.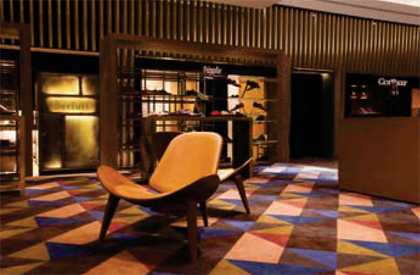 The result and Shed's biggest project to date is level Shoe District in Dubai Mall. The completed spaces reveal a combination of creativity and luxury, paying homage to Shed's passion for delivering progressive and unique retail experiences; The compelling 96,000 sqft metropolis houses 40 handpicked designer boutiques including Prada, Gucci and Louis Vuitton, within a curated space of four multi-brand pavilions.

level Shoe District is Shed's third major project this year following the recent launch of Harrods Toy Kingdom and Harrods Children's Wear department. The sheer scale of the Dubai site required an 'expo' style approach with the creation of four distinct multi-brand areas; Women's Designer, Contemporary, Men's and Trend – each curated with an individual aesthetic, personality and ambience; These 'pavilions' deliver a diverse but engaging set of environments which sit comfortably together and culminate in a truly one-of-a-kind shoe-metropolis. The perimeter 'skin' was also a critical part of Shed's design work and overall scheme; Perimeter fins which envelop the spaces, have a light yet robust fenestration which when softly lit, let the brands sing.

'Women's Designer' is the ultimate in product and service. The area sprawls through vaulted brass arches into an eclectic mix of gold birdcages, marble and copper hemispheres. Bespoke high back chairs sit comfortably on deep rugs mixing carved florals with pastel geometry. A VIP lounge provides a private sanctuary in the centre of this beautiful space, where private shopping and guests are offered fittings and ultimate discretion. Shed specified bespoke and delicate Giles Miller ceramics, hand-crafted in Italy, to adorn this inner sanctum. Within this seductive space, ladies can have the entire product range brought to them and shown in a seductive and carefully lit ambience.

'Contemporary' forms a strong anchor to level's centre of gravity. It is a deliberately heavy piece of micro architecture clad in oiled metal panels in which each product is beautifully suspended on a single illuminated drop rod. This cavernous dark space is offset by the avant garde coral celling dome housing the most precocious product ranges. This huge centrepiece, an imposing yet delicately hung piece the scale of which has not been seen before in retail, uses specialist boatbuilding technologies to build.

'Trend' comes into eyeshot when approaching from the Gold Souk entrance. Clients are mesmerised by a lunar outcrop of marble mountains and gigantic copper nuggets bursting upwards through the floor. As though chiselled from a quarry, the marble rises several meters to form backdrops for technicolour product walls. In complete contrast to the traditional surroundings, this futuristic and fantastical environment hosts the most sought after and ultra cool, brands. Trend is also the venue for DJ events and exclusive showcasing from the world's most innovative and hip brands. Trend will undoubtedly become a magnet for the most avid followers of cool culture.
Men are not forgotten with a strong masculine area of their own. Geometric patination blends a palette of crystal clear glass with grey fumed oaks. Men also has its own VIP lounge in the mould of the very best private members clubs.

Other features within level Shoe District include male and female VIP areas, a traditional, high end cobbler and within the overall scheme and adjacent to the Women's area, Vogue Café present an exclusive dining experience as part of Vogue's brand expansion within the region.

Shed also introduced United Visual Artists (UVA), to the Chalhoub Group who then commissioned the art and design practice to create an installation within the vast atrium space as a focal point within Shed's overall concept. UVA's piece responds to the site – a treble height, cuboid atrium – by drawing attention to the connection between inside and outside (through the glass ceiling overhead), the dimensions of the space and in the way that people will experience the work from below.

Nick Stringer, Shed, commented, 'These 'pavilions' collectively deliver a diverse but engaging set of environments which sit comfortably together culminating in level – a truly one-of-a-kind shoe metropolis in the heart of Dubai. Projects of this scale and importance don't come along too often and we're delighted that Chalhoub Group shared both our creative proposals and insisted on its beautiful execution.'