A chair developed, designed and delivered by Silo, Jablite's Designers-in-Residence has been chosen to be part of the Design Museum's Extraordinary Stories exhibition which has just opened and will be on show until 2015.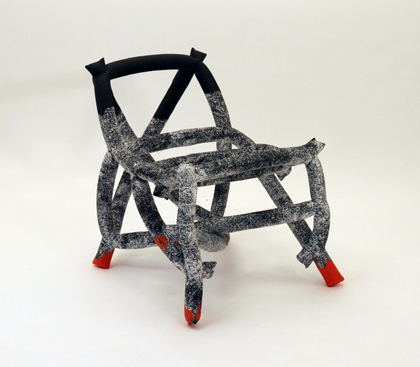 The chair is made from NSEPS or Not So Expanded Polystyrene, a new variation of EPS (expanded polystyrene) developed by Silo who are based at the insulation manufacturer's Belvedere site. A specially commissioned film about Silo and Jablite will also be shown.

"We work with the same raw material that Jablite use to make insulation; but we handle it in a completely different way," explains Oscar Wanless, one half of design studio Silo. "We do not pre-expand the material and we use hand-made textile moulds and our own steamer.

"After that the process is similar," continues Attua Aparicio, the other half of Silo. "The material expands to fill our mould and after it has cooled we remove the textile to reveal a unique object – for the exhibition we created a chair."

Silo has been Jablite's Designers-in-Residence for just over a year and the relationship looks set to continue: "It is a great learning experience for us being connected with a manufacturer like Jablite.

"Jablite works in large volumes and we are hands-on, but we are both looking for ways to innovate and improve what we do and that connection gives us a fruitful overlap in our conversations.

"Jablite has generously given us studio space and free material, but even more importantly than that, this association with a manufacturer working with the same material, is a constant source of new knowledge and inspiration," adds Oscar.

For Richard Lee, Jablite's Managing Director, Silo is an interesting and stimulating part of the extended Jablite team, "Visiting Silo's studio space is a refreshing experience, it is full of colour and strange shapes and I have huge respect for their boundless enthusiasm and energy for their work.

"It is great to be in a position to lend a hand to a these two talented designers. Creativity and innovation are at the core of our business strategy. Having Silo on site gives all of us in Jablite the opportunity to step out of our normal routine and see creativity in action."

www.jablite.co.uk
www.silonet.co.uk