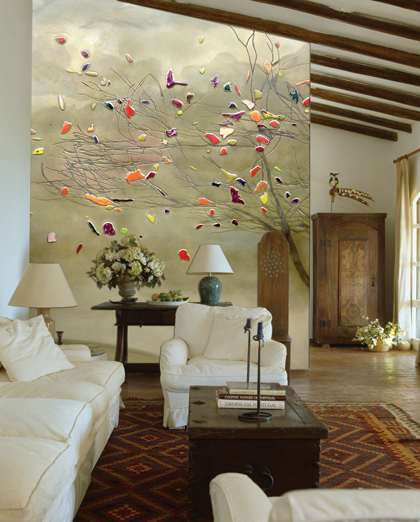 The use of real metal in art and design projects has always presented the same challenges to the budget, timescale, and practicality for designers and architects. This has been due mainly to the challenging physical properties of metal as a medium, and the perception that only traditional ways of applying and working with metal can be used.
Now Brain Eatwell of Metall-FX™ has invented and perfected a process that allows virtually any surface from paper to concrete to be coated in a huge variety of metals and bespoke metal effects. The Metall-FX™ system however means that the metals are applied in cold liquid form.
Brian commented, "You can choose from dozens of pure metals and alloys, then choose a different texture, colour, and have it finished in a manner totally unique to you. We can coat a huge range of materials including sheet and prefabricated metals, wood, MDF, plaster, plasterboard, glass, fibreglass, concrete, paper, plastic, polystyrene, fabric with a solid veneer of cold spray metal. Our specialist area is really bespoke metallic finishes.
"We've already had some amazing opportunities to show what this system can do including the shop frontage of the world's most famous department store, and props for major Hollywood films such as Harry Potter. We've also worked on artworks, sculptures and furniture inside some incredible properties. This system is so versatile it can work anywhere from the largest to the smallest projects and the results are amazing – stunning finishes in real metal".
The Metall-FX™ team of artisans operate from their workshop or on site. The system has already been used to create spectacular decorative metal effects in bathrooms, offices, retail spaces and reception areas, shop fronts, and even to coat the tiled surface of a swimming pool in metal.
For more information telephone 01488 72688 or visit http://www.metall-fx.com