Apartment 58, the global members club for the creative industries will launch their new space at Centre Point, Soho on New Oxford Street, underneath London's iconic Centre Point tower during London Fashion Week, this week.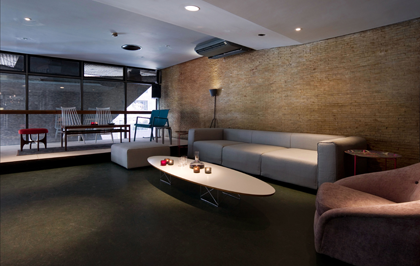 The new 8,000 square foot, four-story club will be a space to socialise as well as work, offering members a host of exclusive facilities including: a night club, members-only meeting rooms in the building's architecturally striking original vaults; members lockers and mail service; a creative lounge and The Convenience Store, a design showroom showcasing 58 unique curated items by art director Andrew Ibi and Design Junction. There will also be a late-license ground floor restaurant that will be open to the public.

The Apartment 58 Centre Point will continue to be a high-tech home-from-home offering a range of services to support the highly flexible and mobile work and socialising needs of its members. This includes super-fast internet access and technical support provided by Sussed IT and access to tablets and laptops provided by Apartment 58's partners.

"We were blown away by the response to our first London opening and this move builds on that success offering our members so much more", said Alan Grant, co-founder of Apartment 58. "When we were offered this unique site, it really was a no brainer for us, being at the heart of London's traditional creative community in Soho".

The design by Michael Sodeau Partnership in conjunction with Design Junction takes references from the simple and clean interior design of the original Apartment 58 in Soho's Poland Street, married with Centre Point's Grade II listed 1960s interiors designed by Richard Seifert, and will be furnished in mid-century design classics.

The new space follows the success of the first Apartment 58 on Poland Street, which opened in March 2012 with an exclusive launch event hosted by key members of the Advisory Committee including Nicholas Kirkwood, Asif Khan and Lily Vanilli and welcomed fashion heavy weights including Louise Gray, Richard Nicoll, Olivier Zahm to a live streamed gig with The Noisettes, parties with Friendly Fires and a visit from One Direction. Apartment 58 soon outgrew its original home and popped up at Design Junction London and The Old Vic Tunnels during 2012's Frieze art fair with Lazarides Gallery that saw a secret gig from Azealia Banks, and backstage at 2012's British Fashion Awards.

Comprised of like-minded individuals who share the same passion for creativity, Apartment 58 at Centre Point, Soho is set to become a global institution for the next generation of artistic leaders.