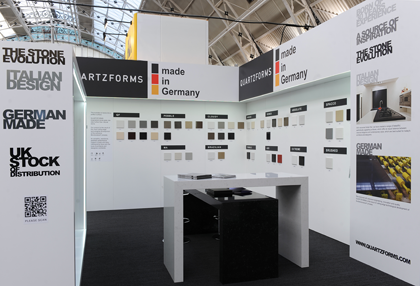 Set up by Managing Director Philip Cole, QF Distribution Ltd (QFD) based in Chelmsford, Essex, has been established as the exclusive distributor of QUARTZFORMS in the UK.
Joined by Sales Director Richard Barrett, previously with Cosentino, and together with his sales team they bring together a wealth of expertise, experience and knowledge to QFD.
New to the UK but not Europe and beyond, QUARTZFORMS chose the Surface and Design Show to launch their product onto the UK market.
The QUARTZFORMS factory is based in Magdeburg, Germany and is owned by the Scapin family from Italy who have over 30 year's experience working in the stone industry, and QUARTZFORMS is the last real European Bretonstone® production created and as a result boasts the highest levels of development in quartz slab technology at this time.
It is this combination of Italian drive and design flair and German precision engineering that QUARTZFORMS believes makes it unique and makes them stand apart from other similar products in the market. The company embark on a continuous programme of product development and are quick to adapt and react to market trends and requirements so QFD customers can expect new colours and textures during 2013.
QUARTZFORMS engineered quartz stone goes one step further than natural stone and is the evolution of stone into the perfect surface and the QUARTZFORMS slabs benefit from many worldwide industry certifications which enable it to proudly offer a 10 year warranty relating to the performance of the surface. QUARTZFORMS versatility, resistance, aesthetic performance, hygienic quality and easy maintenance have won the trust of architects and designers worldwide.
QFD will have at any one time up to 1,500 slabs in stock in the UK with a further three day delivery service from Germany will allow them access to over 15,000 slabs which are held for immediate dispatch. With reactive factory production, the stocks of all fifty designs in three thicknesses and three finishes means that their customers can be assured of balanced supply even when there are unexpected market demands.
QUARTZFORMS will be available through selected national and regional fabricators and stonemasons, and through this process QFD believe that it ensures the highest standard of fabrication and surface for both domestic and commercial projects.
QFD will soon be appointing specialised kitchen retailers throughout the UK so that QUARTZFORMS outstanding product range can be seen and touched by their customers and these will be available shortly through their website.
Sales Director Richard Barrett intends that QFD not only offer the quality and delivery service that the industry expects but that customers can enjoy and benefit from the QFD and QUARTZFORMS technical teams both in the UK and Germany, "we are here to help with all possible questions and assistance regarding specifications and design, and I hope that our personal approach to the market and our customers will enable us to develop the long term relationships which we can all benefit from".
For more information telephone 01245 243929 or email sales@qfdistribution.co.uk