Scott Brownrigg has successfully completed the sustainable 81,000 sq ft fit out for British Gas' new offices and customer contact centre at Oxford Business Park. The new building consolidates British Gas employees from three separate sites into a new three-storey building.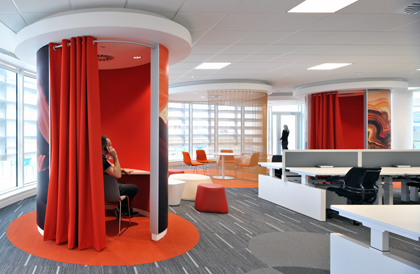 British Gas aspired to make their building and fit out an example of energy conservation and environmental best practice as well as providing an inspiring and flexible place to work.
The Scott Brownrigg concept takes the opportunity to promote and represent the four key sources of renewable energy; the floor plate has been divided into four corners, each representing an individual natural energy source, sun, wind, earth and water. Each is illustrated with the use of colour, materiality, furniture and graphics. For example, a lush three-storey living green wall located within the atrium provides a major feature of the building and as well as forming part of the "earth" zone design, it acts as an acoustic buffer.
The overall design concept throughout the building is reflected through the use of a dandelion motif; the dandelion represents all the natural energy sources coming together to reflect growth and regeneration.
The building and fit out has achieved BREEAM "Excellent" and an EPC A rating. The building showcases the renewable energies and technologies that British Gas supplies and promotes, and two plant towers on both the East and West facades house the mechanical services and three biomass boilers which are targeted to provide 90% of the buildings heating on demand.
Photo voltaic and solar thermal panels have been incorporated onto the roof to produce power and hot water for the building.
Scott Brownrigg created the two work floors using a workplace strategy which focuses on "the in-between spaces".
These spaces, which are separate from individuals' desks and dedicated work zones, provide alternative settings where staff can collaborate and concentrate; all are supported by Wi-Fi, power and refreshments.
The ground floor hosts a business lounge, a variety of meeting rooms and a restaurant for 200 covers. The outside area, adjacent to the restaurant and the terrace on the second floor has also been utilised by adding clusters of seating, creating additional meeting spaces and eating spaces in the warmer months.