Amina Technologies design and manufacture Invisible Loudspeakers for high end residential and commercial premises. From traditional to modern and old to new, Amina always provides the perfect solution.??
The Amina loudspeaker is unlike any conventional loudspeaker. Although it uses the term `loudspeaker`, it is far more correct to refer to it as a Distributed Mode Loudspeaker, or DML Panel. The technology is based on the principle workings of soundboards within natural musical instruments, such as the acoustic guitar, violin or piano. In Amina DML Invisible Loudspeakers, a tiny vibration created by a specially designed electronic 'exciter' (effectively an electronic tuning fork) sets in motion thousands of tiny vibrations all-over a lightweight but rugged aluminium honeycomb composite panel soundboard. It is through this multiplication process that the initial acoustic sound generated by the exciter is acoustically amplified. The sound-board in turn excites the adjacent air molecules, causing sound vibrations to enter the room in an almost non-directional manner. Hence, a DML panel is perceived to always be facing the listener, regardless of location.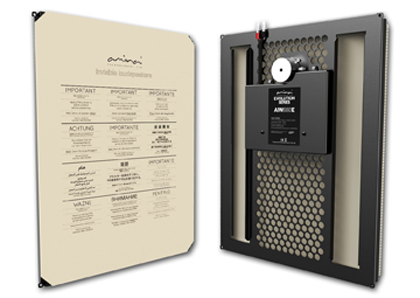 This unique product and technology has been included in many prestigious projects. One of which, a large gallery space in Portugal requiring total minimalism throughout, was recently completed with the inclusion of Amina Invisible Loudspeakers.
The inspirational interior of the Plataforma das Artes (Platform of Arts and Creativity) in Portugal provides a blank canvas for artistic, cultural and social-economic activity. In an environment such as this, all elements require careful consideration, not least the audio system. Step forward Amina Technologies.?
Amina Invisible Loudspeakers were promptly specified due to their wide dispersion, impeccable clarity and, of course, their completely invisible nature. The dispersive nature of Amina DML (Distributed Mode Loudspeaker) products allows a significant reduction in the number of speakers required to fill a large area compared to that of a conventional cone loudspeaker. This saves on both cost and time, creating overall coverage with increased clarity and zero visual interference.
Producing sound like a violin or indeed any sound created naturally, the loudspeaker achieves widely dispersed sound reaching every corner of these architecturally irregular rooms. The design of the product means it is rendered completely invisible by being plastered into walls with a 2mm skim covering the surface.
So impressive was this building that it was chosen by architects and architecture lovers alike to win the DETAIL Prize 2012 for most impressive project of the year and Amina are very proud to have been a significant part of this.
The need for a completely invisible loudspeaker system in this project was an essential requirement which had to be of the highest standard. Amina Technologies and their invisible loudspeakers were recommended and specified, resulting in a stunningly modern interior to last the 21st Century and beyond.
This truly was an exhibition of invisible sound!
Through experience of installations like this one, Amina invest heavily in research and development of their loudspeakers, continually looking for ways to improve sound quality even further whilst developing an increasing range of innovative products for both the commercial and residential markets.
For more information visit www.amina.co.uk. you can check out Amina on Youtube at http://www.youtube.com/user/aminatech or visit their Facebook page http://www.facebook.com/pages/Amina-Technologies/141446589217333