New creative collaborations are on the horizon for designers at Middlesex University, following a major new investment in academic talent and a plan to fuse interiors with fashion for the first time.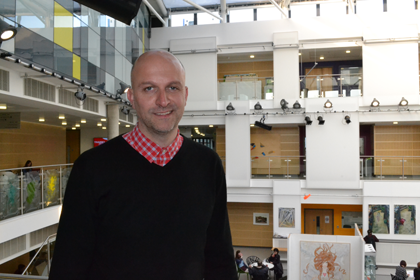 New hired professionals in the University's school of art and design include leading interiors practitioner David Fern, design researcher Professor Anne Massey and the launch of a new Fashion and Interiors department, headed up by interior education expert and writer Graeme Brooker.?
?Brooker, Founder of Interior Educators, is excited about his new brief leading a department that will cover interior design, interior architecture, fashion, textiles, fashion communication and styling as well as jewellery and accessories. He said: "Combining the expertise and vision behind fashion and interiors is something that could be a very appealing extra for both students and researchers. The disciplines have a lot in common in terms of body, space and surface so promoting opportunities for fusions will be an exciting challenge and will forge relationships and ideas that will be taken forward into industry."? ?
From this year, all of the University's creative courses are located in the Grove, a new £80m arts facility in north London. Formerly based over three campuses, the move sees artists and designers rubbing shoulders with performers, TV producers and design engineers under one roof for the first time.
Graeme Brooker believes the new influx of academic talent is the final piece in the jigsaw:? ?"Middlesex is investing heavily in its staff, targeting professionals with research expertise or industry links. The entire art and design portfolio has been boosted with new faces, and in my newly formed Fashion and Interiors Department we're delighted to welcome new expertise to strengthen both disciplines. I'm excited about working with fellow new staff like architectural history expert Dana Arnold, and Anne Massey, writer of one of the seminal books on interior design.
?"Creative Industries are looking for designers who can think across disciplines and apply their ideas and skills in a diverse and innovative way. Fashion and Interior students, along with many others such as graphics, animation and product design can and should be able to share ideas, skills and create work that redefines the industry that they want to be a part of."