Blackburn-based designers, Bibi Interior Architecture, have recently completed a commission for the Whitehall Hotel in Darwen, which required a design specialist to plan and oversee the redevelopment of its principal function room.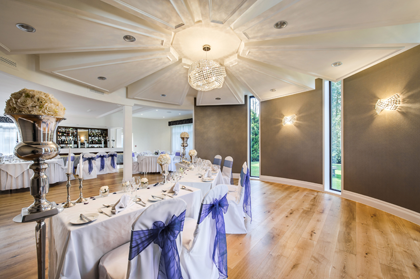 Built as a manor house in the late 19th Century, the sandstone-fronted Whitehall Hotel is a popular venue for weddings, business meetings and conferences. The function room itself is a relatively recent extension so, whilst the owners Neil and Tracy Bullows wanted it to remain broadly sympathetic to the hotel's elegant and traditional aesthetics, they were also keen to introduce a strong new element of modernity.

Following a detailed study of the hall and further discussions about the client's requirements, Bibi's team of designers proposed improving the use of space by removing a number of columns and transforming the layout and décor through a combination of both traditional and contemporary materials.

Having explored its 3D visualisations with the hotel owners and duly received instructions to proceed, the team then began managing the refit. This entailed installing a bespoke new bar, replacing the ceiling and floor, and fitting custom manufactured doors throughout. Bibi had the doors made to its own specification and also designed the bar, which featured a Corian worktop and textured side panels from the British manufacturer Muraspec.

The new solid wood floor was made from sustainably sourced European oak and the design made extensive use of fabric including voiles by Premier Voiles and roman blinds by Harlequin – both of them established British suppliers.

Creative, remotely controllable coloured lighting was also a key element of the scheme. The controls enable different zones to be emphasised and differentiated, whilst strip lights wash the voiles with accents of colour, lending interest and variety to the wall surfaces. The scheme also uses Swarovski crystal feature lighting by the Italian manufacturer Marchetti Illuminazione.

The newly refurbished function room re-opened in February 2013.