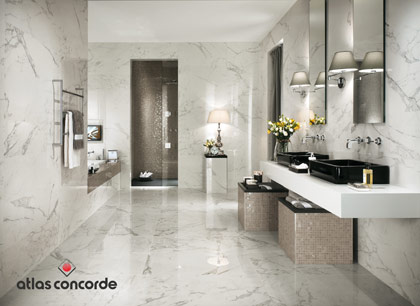 Inspired by the most prestigious, precious and traditional Italian marble, Marvel is a ceramic project with the highest possible aesthetic and technical impact, featuring porcelain stoneware floors and co-ordinated white-body wall cladding. The technological quality of the production process combines the elegance of marble with the advantages of ceramics and effectively meets contemporary design needs in all fields of application.
?Coloured in body porcelain stoneware
Natural colours and veining, deep shades and transparent cloud effects: the Marvel coloured in body porcelain stoneware recreates the surfaces of the most sought-after marble with surprising realism. The intensity of each colour faithfully interprets natural marble with the added advantages of ceramic tiles: perfect reproducibility of the same surface over time and excellent technical performance in terms of resistance to wear, stains and detergents.
The honed finish features a surprisingly brilliant and reflective surface. The extensive range of formats highlights the application potential of Marvel in all architectural contexts; the extensive selection of patterns allows creative designs to be realised in highly prestigious settings. Marvel is also available in the matt finish, ideal for projects with enhanced technical performance requirements.
White-body wall tiles
The Marvel white-body wall cladding reproduces the most precious stone materials in all their splendour, recreating delicate veining, intense shading and the finest detailing in order to highlight application on inner walls. Marvel is a new way of combining beauty and functionality: the shades and brilliance of the surface do not change over time, the surface is resistant to stains, detergents and chemicals. The bright transparency and the surprising depth of Marvel wall cladding is the result of the richness and quality of the glazes used which make the surfaces extremely glossy and reflective.
Marvel is available in two important single-gauge rectified formats which allow the surface to reflect all its aesthetic potential and elegant refinement. The wealth of decorative possibilities make it perfect for all indoor projects, from bathrooms to the most exclusive spa areas.
For more information please telephone 07711 042096, email m.duff@atlasconcorde.it or visit www.atlasconcorde.it/en