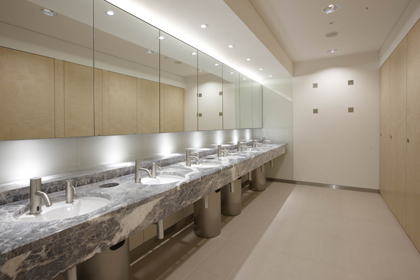 Washrooms inside a newly refurbished 11 storey office tower in the middle of the City of London have been given a stylish and hygienic makeover with the installation of Vitrio backpainted glass walls and vanity units from Glassolutions.
Glassolutions won the £55,000 contract to supply and fit the white Vitrio backpainted glass in washrooms on 10 floors of the 11 storey building at 199 Bishopsgate, Broadgate. The building, which stands between The Broadgate Tower and Exchange House, was built in 1991. Owners British Land and the Blackstone Group are giving the building a new lease of life by increasing its operational lifespan and improving its sustainability.
Matt Bidson at fit-out company Harrison Jorge, who awarded the contract to Glassolutions said: "Vitrio is the perfect product for the washrooms as it is easy to maintain, looks modern and stylish and is hygienic. Glassolutions provided the highest levels of service from start to finish – from providing product samples and specification know-how to the efficient coordination of site deliveries, which was spread over three months. The on-site team has been fantastic – really setting the benchmark for subcontractors."
Kevin Finch project supervisor at Glassolutions, which is part of the worldwide Saint-Gobain Group, said: "The building lies at the heart of the City of London's tower cluster, close to the Gherkin and the Shard, so access was restricted. The refurbishment was planned in stages, which meant careful coordination of surveying, ordering, deliveries and installations but good communication and good project management ensured a smooth and efficient service."
Vitrio is a range of coloured, backpainted glass for interiors and offers striking solutions for walls, surfaces and borders. It enables ultimate design flexibility in terms of application, colour, design, size and shape achieving a truly bespoke room and an environment that is safe, hygienic and easy to maintain. Glassolutions manufactures Vitrio to order in the UK.
For more information visit www.glassolutions.co.uk