The winning team in last November's Sleep ReardonSmith Student Award has completed a concept for the Hyatt Regency London.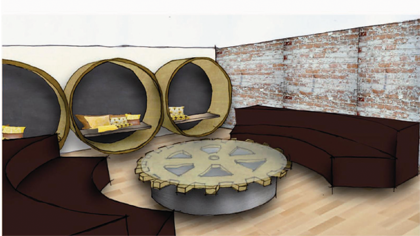 The Churchill, inspired to set a new standard in hotel staff restaurants. The students, from Hoshshule Coburg University of Applied Sciences in Germany, triumphed over 25 others teams in the design of imaginary staff areas in a competition created jointly by ReardonSmith and Sleep with the input of Katrin Hofmann, Hyatt's Human Resources Director. However, it was at the Awards ceremony itself that the students learnt they would have the opportunity to convert theory into practice and redesign the employee restaurant at the Hyatt Churchill for real. With the support of the Hyatt HR team, this process is now underway.
The students were tasked with creating three initial concepts for Hyatt's consideration and it was The Engine which won the operator's strongest approval. This harnesses industrial imagery, in particular the wheel, in combination with brightly toned and comfortable furnishings within a carefully zoned space.
The redesigned restaurant includes a lounge area, seating booths tucked away in recesses and a "creative" wall where staff can leave messages as well as the main dining area with high and low seating for up to 50 people at a time. A traditional cogwheel is given a new lease of life as the centrepiece coffee table in the lounge and as the surround to the seating niches, while steel tubes are reinvented as a latticed partition with integrated pin points of light. Brickwork to the walls is exposed and whitewashed factory-style. Sofas and benches are upholstered in brown leather enlivened with brightly coloured scatter cushions. Taken together, The Engine is both a place to socialise and quietly relax, it is restorative and fun and clearly makes the point to employees – they are the engine room of the hotel.
"It has been very exciting to work with Hyatt management on this project," says Patrick Reardon, Executive Chairman of ReardonSmith Architects. "They absolutely share with us the view that good facilities for employees mean better motivated staff and this translates into the most important element of a hotel's success – people and service. The students have been a joy to work with, their concept for the new restaurant is a great response to Hyatt's aspirations and I think it has been a very engaging experience for them."
Adding her vote of confidence in the Student Award, Kali Nicholson, Brand Director of Sleep, says: "I am delighted that we decided to reinstate a student award last year. It resulted in some really innovative thought-provoking entries and I'm looking forward to this year's challenge. Students are an important part of our community and we are keen to engage them in the very exciting world of hotel design."

Sleep will announcing its 2013 European Hotel Design Awards categories in early April as well as the design challenge of this year's Sleep ReardonSmith Student Award.
www.reardonsmith.com
www.thesleepevent.com