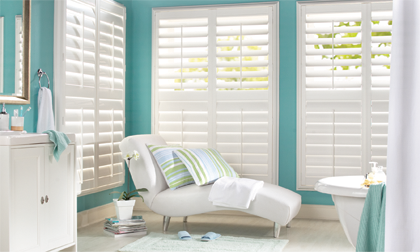 Luxaflex® introduces a range of truly versatile vinyl shutters, combining elegance with the resilience of vinyl. They are the perfect window solution for every room in the home from formal living spaces to rough and tumble play rooms where durability is key. Luxaflex® vinyl shutters are particularly suited to busy kitchens and steamy bathrooms as vinyl is the best option in rooms where excess moisture is present.
Luxaflex® vinyl shutters are individually made to fit your home and your specifications, perfect for inside or outside recess, bays and patio doors. They are a great choice for doors; French door cut outs allow handles to move freely without interference from the shutter. They can also be used as room dividers in open plan areas creating a contemporary and unusual interior style. Luxaflex® shutters are available in a range of shapes creating solutions for unusually shaped windows.
Full height shutters cover the entire height of the window producing a simple and elegant effect. Tier on tier offers the versatility of separate shutters on top of each other, each open individually for ultimate light and privacy control. Café style cover the bottom part of the window, leaving the top uncovered. This continental look is perfect for overlooked windows whilst allowing natural light to flood the room.
A range of three louvre sizes allows you to control the light and privacy in order to suit you personal taste and needs. Choose between the classic styling of tilt rods to control the angle of the louvres or hidden tilt rods which offers a clean appearance when the shutters are closed, whilst also providing an undivided view of the outdoors when fully opened.
Luxaflex® vinyl shutters are fire retardant and child safe. Their lightweight design with internal air pockets provide an elegant solution for large windows as well as being energy efficient. Luxaflex® shutters are manufactured in the UK and have a 2 week delivery time. Easy to maintain, washable, waterproof and fire retardant, they will not fade, crack or chip something that Luxaflex® guarantees for 25 years.
Luxaflex® has produced a fantastic range of shutters with the elegance, versatility and durability suited to the modern busy home.
For more information visit www.luxaflex.com