Portview has completed a fit out for high luxury fashion label Oscar de la Renta in Mayfair, London. Designed by Meyer Davis, New York, the 300 square metre store is the designer's first standalone store in London.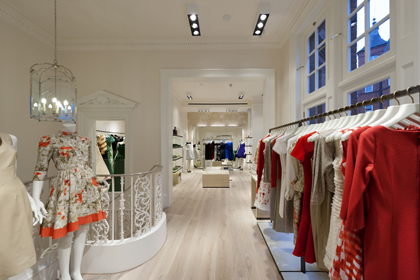 Portview was selected for the project after working with designers Meyer Davis on Oscar de la Renta's store in Harrods. They were so impressed with the work, they asked Portview to complete the £1.2m fit out of their first standalone store in London.

The fit out was completed in 28 weeks and involved stripping back the building to its original shell then building the project almost entirely from start to finish. Portview recommended the client worked with architects, rpa:vision, and M&E contractors, Foreman Roberts. They managed everything from strengthening the building's structure and refurbishing the staircase to the lighting, utilities and telephones.

The store's furniture was designed in New York, but had never been made before; and so once the manufacturing drawings had been completed it had to be manufactured in its entirety and installed by Portview.