The newly-opened Radisson Blu Mall of America (MOA) now features stunning interiors by British designer Graven Images.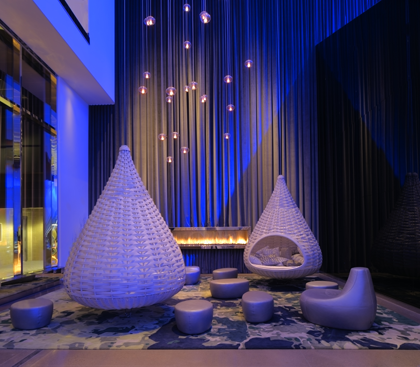 Inspired by its unique retail environment, the character and history of its location in Bloomington, Minnesota and the European design influence, integral to its parent brand's DNA, Graven Images has created a stunning new retail space for the brand.

This is the brand's second 'outing' in the USA; its flagship Radisson Blu Aqua in Chicago opened in November 2011 and netted Carlson-Rezidor and Graven Images a prestigious Golden Key Award for its thought-provoking, contemporary interiors.
The Radisson Blu MOA, a mere 15 minutes' drive from Carlson-Rezidor's global headquarters, takes the brand's reputation for pushing design boundaries one step further and demonstrates its parent company's great energy and ambition.
The result is a considered interpretation of context which stays true to the design-led ethos behind Radisson Blu, enhancing the experience of everyone who passes through its doors.
The Radisson Blu Mall of America will feature aspart of the Project Gallery in the May-Jubne issue of Interior Design today.