Global architecture and interior design agency PENSON, has released images of their latest revolutionary Head Quarters for Google, located in Victoria, London.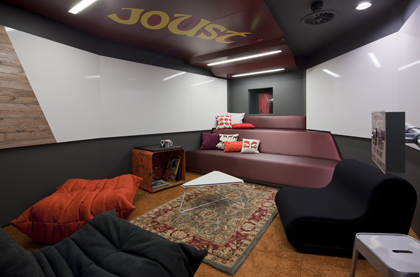 Following their previous HQ's for Google, in London, this new release has even more clever examples of PENSON's workplace strategy inventions. One such new idea is "The COG", which is a quiet space with mobile phone jammers. This HQ therefore offers a shrewd sliding-scale of areas ranging from spaces for total solitude, through to full-bore group collaboration in many different guises.
With PENSON's trade mark Flight-Pods, Huddles, Makers Workshop, Route-Masters bus complete with zebra crossing, fully height adjustable desks with intermediate shelves, awesome video conference rooms and very neat design details galore throughout the space, this is a very cool place indeed for Google's lucky technology Engineers to work.
The Techstop is a fun place to get your laptop fixed in a hurry, in comfort with a unique twist to its design. It is at the Techstop, that the recycling content of the project starts to emerge. All materials in the scheme are either fully recycled or have a high recycled content. As with PENSON's Google Super HQ in Covent Garden released last year, many water-based finishes are used to great effect, whilst providing a high-level of practical durability.
In the Deli, bread delivery trays are reused to clad walls and tables are made from recycled timbers, all of which provide a nice break from the more "techno" spaces that form the desking areas.
As with all PENSON schemes the desking areas received equal attention to detail. PENSON worked with the desk manufacturer Elite to tweak their existing product design to provide just a little extra height adjustability for full stand-working practices. Google love this model of working as it's good for you! Between rows of desks PENSON inserted bespoke shelving to help screen desks at differing heights, whilst providing a huge linear length of shelving for personalisation artefacts. The system works very well and is now being used for many other PENSON schemes for a wide range of client types.
The Flight Pods seen in some previous PENSON schemes have been developed a little further, they are lighter, yet more acoustic and provide more fun internally with more white-board externally. They even accommodate a LED monitor for reporting important information to Engineers on a constant basis. These flat pack rooms as per usual provide a multi-function space that can be used for meetings, brainstorming, war-rooming or Friday pizza consuming. They are extremely good to look at, very ergonomic, practical and can be erected in a few days!
Other spaces such as the workshop continue to recycle & thrive on Google's Red List of healthy ingredients in terms of building materials & finishes. Each space is different yet is linked by some very cool circulation routes that always provide inherent opportunities for collaborating, grabbing a print you've sent or grabbing a vista into a cool nook & cranny to brighten up one's day. PENSON have used recycled seat belts & scaffold poles to create "not-seen-before" details to economically design-up these routes. They are all great fun spaces to connect through.
There is also a naked "exposé" theme running through the spaces, where the workings of the HQ can be seen through glimpses of linings are missing. This occurs to some table tops also, with little trinkets beneath to add a bit of zest to one's video conference.
What with the cool Micro-Kitchens, wide variant of meeting room sizes, shrewd space-planning & overall interior design, this is a great HQ and underlines PENSON's standing as one of the most creative workplace architects.