The original flagship of marzipan confectionery Niederegger has been sensitively modernised by JOI-Design so that this much-loved treasure may evoke delight in the young and old for centuries to come.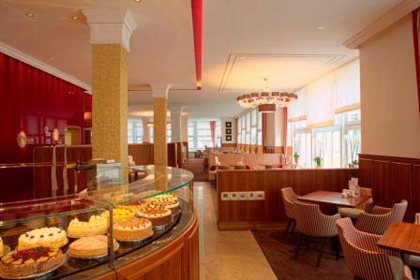 Since 1806, seven generations of the Niederegger family have been tantalising sweet tooths around the world from their shop and café in the heart of Lübeck, a UNESCO World Heritage Site in northern Germany. In January 2013, the doors were shut for the first time in its history so that the interior architects could restore this cherished landmark.

JOI-Design's vision for the restoration was that the time-honoured values of this legendary icon would be sympathetically balanced with 21st century modern efficiencies. The result is an elegant design of a 350 m2 boutique confectionery and a 350 m2 café whose classic style will evoke the magical memories of childhood sprees to the sweetshop and paint vibrant images for those who are discovering it for the first time. To help preserve this sense of timeless simplicity, natural and sustainable materials such as responsibly sourced teakwood, solid brass and energy-saving LED lighting have been thoughtfully integrated into the spaces.
The thread which links the entire design concept was inspired by the very first marzipan treats concocted by Niederegger. This loaf made from creamy almond paste enrobed in rich chocolate and enclosed in a glistening ruby and gold wrapper was the source of the new décor's colour palette. Red and almond tones can be found in the custom velvet and leather upholsteries, with the colour of bittersweet chocolate recalled in smoked oak parquet flooring and woven carpets of the dining areas.