Margolis Office Environments Ltd has completed a new interior in Guildford, Surrey, for Baker Tilly, a leading independent firm of accountants and business advisers.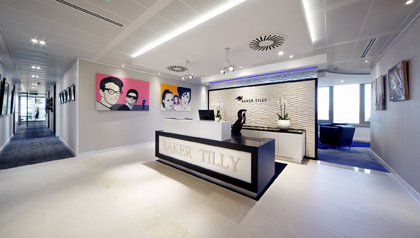 Margolis successfully met the client's requirement for the 13,500 sq ft of office space to delight aesthetically without being overly opulent. Termed by Baker Tilly as one of its key offices in the South East, the Guildford office has been fitted-out to a sophisticated standard and in a professional tone that is in keeping with the practice's other recently refurbished offices.

The project, which was the second Margolis has completed for Baker Tilly, was completed in eight weeks and was delivered on time and within budget. Baker Tilly has since asked Margolis to deliver further office interiors in Stoke and Gatwick.

Warren Margolis, Project Director, said, "This was an important project for Baker Tilly following its move from its former Guildford location of 25 years to a new office that had to meet the demands of 125 team members as well as significant numbers of visiting clients. The designs have met the requirements of the firm and its staff and the very positive feedback from the client is testament to this."