Margolis Office Environments Ltd has completed the fit-out of Petroineos Trading Limited's new offices in Victoria, London.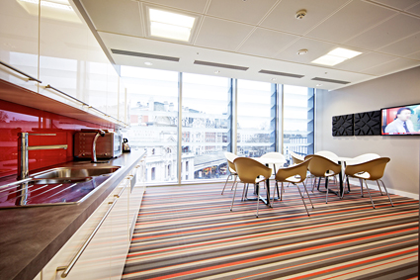 Over 14 weeks, Margolis Office Environments transformed the 19,250 sq ft space into a flexible meeting and training workspace that both staff and clients can enjoy.

Natural materials were incorporated throughout the design of the interior including marble and grained veneer which have been used in contrast as a visually striking backdrop to the corporate signage in the reception and waiting areas.
Margolis also provided an open plan area for staff to meet on an informal level and encourage communication as well as a kitchen break out space for them to relax and enjoy a break.

Mae Teh, Senior Designer at Margolis, commented, "Petroineos wanted a flexible space where staff can enjoy a professional yet social working environment that is welcoming to both staff and clients. The designs are sympathetic to these requirements creating a professional, flexible space that both staff and clients enjoy."