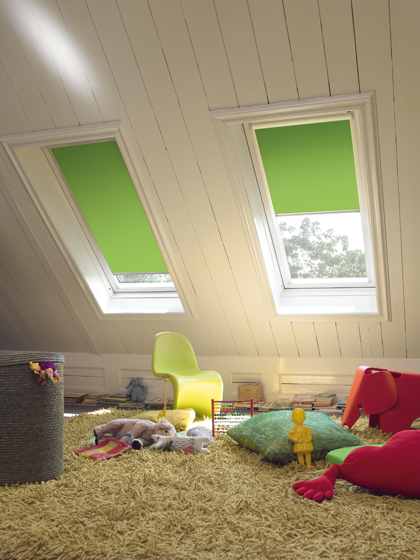 With the longer days approaching now is the right time to start thinking about new blinds, particularly for the bedroom. Blinds that have the added function of a dim out feature will allow your clients to have those precious extra minutes of slumber before being awakened by the early morning light, or in the case of a child's bedroom provide the darkness required on a summers evening to make bedtime easier.
The unique Expressions Roller Blind collection from Luxaflex® is a great choice for the bedroom and can come complete with a host room darkening features. Choose from a range of patterns varying from romantic flowers, photo prints and modern designs to charming drawings for children. All patterns are available in three different transparencies so that the amount of privacy and light entering a room can be controlled. A palette of more than 96 colours, from natural shades and soft pastels to striking contemporary colours makes an inspiring addition to any interior décor.
Silhouette® Shades feature excellent light control, the Bon Soir room darkening fabric option ensures enhanced darkness and the ultimate in privacy.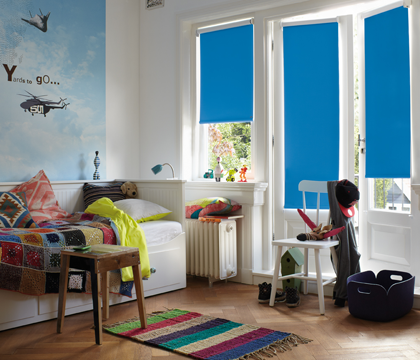 Duette® Shades can be outfitted with an integrated, metalised black-out fabric offering a range of options for rooms that require complete darkness. Choose the Day and Night option for complete flexibility in your room darkening capabilities.
Luxaflex® Venetian and Wood blinds are made from solid materials making them an excellent choice where room darkening is a must. The Lightline® Venetian blinds are designed to prevent any light leakage from around the vertical cords, for even more light blocking capability. Choose wood blinds with decorative tape to further enhance the room darkening possibilities reducing the light leakage from around the vertical cords.
A nursery or child's bedroom is where blackout blinds become an invaluable parent's tool. A dark room will aid a child's sleep, making it easier to get them to sleep as well as helping them to stay asleep. In the summer months Luxaflex® dim out blinds really are a parents a best friend, Luxaflex® blinds also have many child safety features for peace of mind and peaceful nights.
Quick release cord tassels are fitted as standard on many Luxaflex® blinds, which break apart and separate when pressure is applied to them.
Luxaflex® UltraLiftTM is a revolutionary retractable cord lifting system, available with Luxaflex® Silhouette® Shades, which allows the user to effortlessly raise the shade and the cord retracts itself automatically, which means the cord will never dangle on the floor.
Cordless blinds eliminate cords altogether. Hand operated blinds can be lifted or lowered by pulling/pushing on the bottom bar. This option is available on Luxaflex® Duette® & Plisse Shades, 16mm & 25mm Metal Venetian blinds, spring rollers and Skylight Window blinds.
Motorisation eliminates lift cords through battery powered remote controls and is available on most Luxaflex® products. Shades can be lifted and lowered at the touch of a button.
Certain window coverings are always cord-free, such as Luxaflex® Japanese Design Panel Tracks and Interior Shutters.
All Luxaflex® corded blinds are supplied with a safety device to allow any loose cords to be tied out of reach or otherwise restrict access by young children.
For more information visit www.luxaflex.com