The best of contemporary boutique British style with an individual touch to each room has been delivered at Flemings Mayfair, London, by Suna Interior Design.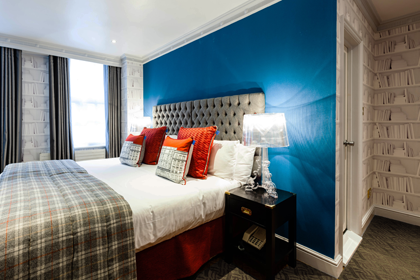 The design on Flemings Mayfair started in the summer of 2012 with the 'Books Room', an alluring and quirky design that centred around wallpaper by Young & Battaglia. The brief was to be strong with colour and to keep the feel very British, to maintain the essentially British personality of the hotel while creating a contemporary atmosphere.
Suna Interior Design worked with the client in order to create the finished product that reflects the desires set in the brief. In the case of Flemings Mayfair, the client decided to let the creativity flow and dared to embrace design features such as the Dog Artwork and the Antler Chandelier in the Luggage Room, contemporising by using a modern take on British quirkiness.
Suna Interior Design recognise that the Flemings Mayfair brand is subtle but strong and always of the highest quality, and has echoed this throughout the designs employing a consistent use of individual design. Flemings Mayfair is embracing their brand, with items designed specifically for the project, such as unique, labelled cushions and bespoke wallpaper.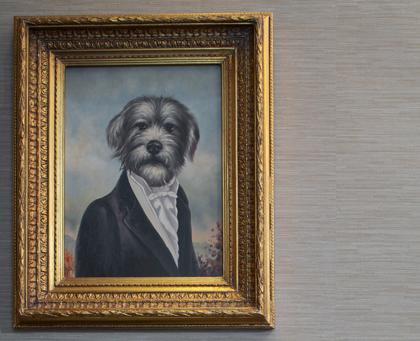 These intriguing and captivating cushions quirkily portray the frontage of the hotel using artwork commissioned by Suna Interior Design from Adam Regester and bring together the colour pallette in each room, while the wallpapers give each design and room it's unique individuality.
Always ensuring attention to detail, Suna Interior Design is sensitive to the functionality of design and understands the need to employ a practicality of choice. In a hotel environment that will see numerous guests enjoy the hotel experience, it is important to pay attention to the durability of the design.
Suna Interior Design has created seven different designs that have the attraction of looking slightly different and unique in each room because of the difference in the shapes of the rooms.