The public areas of two Marriott hotels on the French Riviera have recently been modernised by JOI-Design, re-introducing the JW Marriott Cannes as the place to be seen.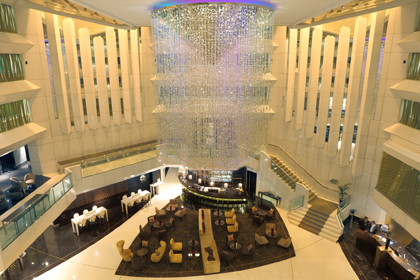 Located on the former site of the Palais des Festivals, the JW Marriott Cannes is on the famed Boulevard de la Croisette, a palm tree-lined promenade of luxury boutiques, restaurants and cafés overlooking golden beaches. As a reference to the site's former occupant, the designers' concept for the JW Marriott Cannes recalls a sophisticated era of film star glamour, one that imbued the spirit of luxury without being excessive.
The relative simplicity of the 1980s architecture provided a suitably neutral background and the building's clean lines have been carried through into the interior design concept. Here the values of deluxe elegance are expressed via the application of high quality materials and finely crafted details. The designers deliberately kept to a subdued colour palette of greys, mahogany, black and ivory accented with warm gold and champagne tones. Material finishes are pure and luxurious, Carrara marble, Macassar Ebony timber, leather, velvet and silk.
JOI-Design has also redesigned the public spaces of the nearby AC Ambassadeur Hotel in Juan les Pins, a picturesque historical town on the renowned Co?te d'Azur.
The aim here was to create a relaxing coastal holiday destination that is a harmonious balance between the city and the countryside. Inspiration was taken from the locality, the seascape and associated maritime culture, regional architecture, and the town's proximity to the Gould Pine Grove with its celebrated jazz concerts.
The combination of warm sandy hues, azure blue, teak wood, leather and polished stone is a response to the hotel's environment and offers cool, calm respite from the sundrenched Mediterranean climate.