The design philosophy of Swissôtel Hotels & Resorts is reflected in the newly-opened DesignLab located in the Zürich headquarters of the international hotel chain with Swiss roots.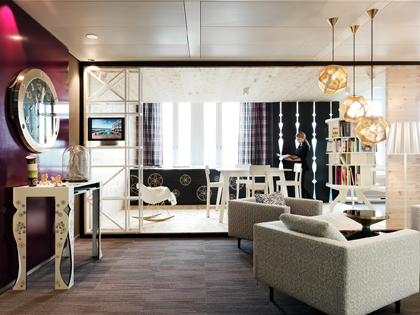 It resembles a modern "Arvenstübli" or pine parlour that demonstrates how tradition can be blended with contemporary design and technology.

In view of the planned conversion of globally-located Swissôtel executive lounges into modern pine parlours, a miniature version has been created in the Corporate Office. Functioning as a meeting or presentation room for employees, but also as a waiting area for guests, the DesignLab symbolises and acts as a showcase for modern Swissness, which is a daily occurrence in all Swissôtel facilities.
Employees have rapidly come to value the exclusive ambience of the new DesignLab, with its low and comfortable chairs, high meeting table and bookcase, as a meeting place for an informal discussion or coffee breaks.
Simultaneously, the hotel group's ongoing design projects in various countries are displayed so that both visitors to the headquarters and employees can delve into the Swissôtel world of design.

"Traditional wood-panelled pine parlours, found for centuries in old Swiss houses, have been newly interpreted and modernised here," according to Karsten Schmidt, who developed the DesignLab together with the team at his architectural office IDA14 and in his function as Director of Interior Design for Swissôtel. "Drawers and furniture have been decorated with ornaments in the style of traditional Swiss Sgraffito, which is still to be found on the facade of many buildings in the Swiss canton of Graubünden." The engravings and carvings originate from the Appenzeller wood-carver Roman Räss, who has created a name for himself outside of the well-known woodcarving town of Brienz, with his contemporary work and art projects. "Selected design pieces such as the Bell Tables of Sebastian Herkner for ClassiCon, the book merry-go-round of Roderick Vos for Linteloo, the Etch Lights of Tom Dixon, the moooi chairs by Marcel Wanders or the Eames Rocking Chair of C. and B. Eames for Vitra, supplement the ambience in the new DesignLab," Karsten Schmidt adds.

"It is important for us not only to project this design style to the outside world, but also to internalise it within our offices and in the employee environment," says Lilian Roten, Vice President Operations Swissôtel Hotels & Resorts. "The Designlab is critical for office communication, cooperation and ultimately innovation. Creative brainstorming sessions, away from the normal office environment, are more successful and stimulate a feeling of wellbeing in the often taxing office routine."